Listen again on BBC World Service via
http://www.bbc.co.uk/iplayer/console/p006xbft
from 3 April 2010 11.30pm for 7 days
Seq - Artist - Song Title - Album - Country - Label - Cat no
1 - Orchestra Baobab - Utru Horas - Pirates Choice - The Legendary 1982 Session - Senegal - World Circuit - WCD 014 –
http://tinyurl.com/azekzk
2 - Baaba Maal - Salminanam - Djam Leelii - Senegal - Palm Pictures - YOFFCD0001 -
http://tinyurl.com/dmnwvb
3 - Jali Musa Jawara - Haidara - Routes: 20 Years of Essential Folk Roots & World Music - Guinea Conakry - Nascente - NSCDd2000 -
http://tinyurl.com/blwyhz
4 Franco - Liberte - FrancoPhonic - DR Congo - Sterns - STCD3041-2 -
http://tinyurl.com/6lbtvd
-----------------------------------------
http://www.charliegillett.com/playlistn ... 1January09
Charlie's original bulletin:
If you were to go looking for the seeds of what became the world music movement, here's the garden where you need to dig. These were the artists and songs that helped to turn long-time devotees of western music into newly-converted adherents of music from elsewhere and in particular, West and Central Africa. There had been plenty of people already on the fringes, some clear that there was a whole lot more music out there than most people realised, but even they came on board with more conviction when they heard these songs.
Orchestra Baobab
Orchestra Baobab's album arrived in Europe via a dubious route, released by somebody who did not own the rights to do so. I first ran across the album in Amsterdam but a few months later it appeared on the shelves at Sterns in London. When Andy Kershaw was given a slot on Radio One and announced that he would be playing this (still unnamed) world music, I offered to escort him to Sterns where I pointed to Orchestra Baobab's album as an absolute must. I had been playing the lilting 'Coumbia' on Capital Radio, but Andy took to the more languorous 'Utru Horas'. Once I heard it on his radio show, I realised he was right, and moved across to reinforce his preference. Somewhere along the line, World Circuit's A&R man Nick Gold joined the throng of entranced listeners and managed to establish contact with the rightful owner to put it out properly. In the sleeve note, I innocently observed that all the songs had been recorded in one take, but Nick mocked such ignorance by including two versions of both 'Coumbia' and 'Utru Horas', relegating the 'originals' (ie, the versions we already knew) to the end of the CD. When he subsequently reissued the album, Nick dropped those originals altogether, but I still prefer them.
Mansour Seck (left) and Baaba Maal [photo:
http://www.Afropop.com
]
Lucy Duran and Ian Anderson were among those already in the know when all this was going on, Lucy having lived in West Africa for a couple of years before returning to the UK where she joined the staff at the National Sound Archive as African music curator, and Ian as editor of a folk music magazine who was already stretching definitions of folk music beyond the expectations and preferences of many of his readers. Together they arranged for the first European release of material recorded for cassettes by the Senegalese duo, Baaba Maal and Mansour Seck, which entailed remixing some tracks. Subsequently signed by Island Records (and later Palm Pictures), as a solo artist (without Mansour Seck), Baaba Maal made many records with modern western instruments but never improved on that first album. He has became much better known outside his own country than back home, where he was a regarded as a marginal, minority figure.
Djeli Moussa Diawara
Under the French spelling of his name, the Guinean kora player Djeli Musa Diawara recorded his debut album in 1982 in Abidjan, Ivory Coast, where he had been playing in restaurants. Released on Tangent, a label run by an American in Paris, the album inspired me to dip my toe into this new music by releasing it in the UK on my Oval label, with Anglicised spelling of his name as suggested by Lucy Duran – Jali Musa Jawara. Billy Bragg's enthusiasm led to his Go Discs label boss Andy McDonald licensing the album for release under the title Direct from West Africa, while World Circuit's boss Anne Hunt brought Jali Musa to play on two double bills in London with the Malian guitarist (and Andy Kershaw favourite), Ali Farka Toure. Amusingly (to all except those who had to deal with the problem), neither Jali Musa nor Ali had heard of each other, and each assumed he should be top of the bill. Fortunately, as there were two concerts, the bills could be reversed. Both artists recorded new albums for World Circuit while they were in the UK, but only Ali sold enough records to justify making more albums. Meanwhile the original Jali Musa album was issued yet again, this time on Joe Boyd's Hannibal label, but that license lapsed long ago, and at the moment the album is scandalously unavailable. 'Haidara' was included in Ian Anderson's excellent compilation for Nascente, Routes: 20 years of Essential Folk, Root and World Music.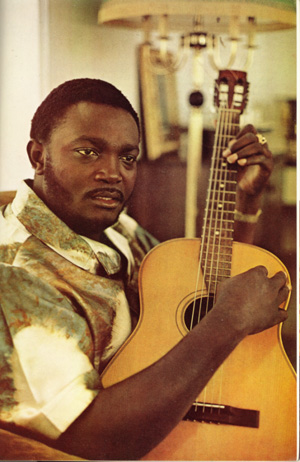 Franco
Finally, Franco, the Congolese singer, song writer and band-leader who had been recording for many years before this sudden explosion in West Africa. Unlike most of the West African singers, Franco carried is music far beyond the borders of his own country, and is still revered in Kenya, Tanzania, Zambia and Ivory Coast.
CG