Seq - Artist - Song Title - Album - Country - Label - Cat no
1 - Francois Muduga - chante avec Cithare - Burundi: Musiques Traditionelles - Burundi - Ocora - CD HM83
2 - Babatunde Olatunji - Jin-Go-Lo-Ba - Drums of Passion - Nigeria - Bear Family - BCD 15 747 -1
3 - unknown Burundi girls - untitled duet - Burundi: Musiques Traditionelles - Burundi - Ocora - CD HM83
4 - Titi Robin - Pundela (feat Gulabi Sepera) - Gitans - France/ Rajastan - Naïve - WN 145170
5 - Saban Bajramovic - Pena - A Gypsy Legend - Serbia - World Connection - WC 43024
6 - Drummers of Burundi - Ingoma - Burundi: Musiques Traditionelles - Burundi - Ocora - CD HM83
------------------------------------------
Changing the focus of our long-running series of world music hits, here's the first of a new series featuring albums.
Several comments have been posted in the forum recently praising the work of the Ocora label, the record company set up by Radio France International, best known for its location recordings made in most countries in the world.
In 1967 (*), recording pioneer Michel Vuylsteke went to Burundi in East Africa where he made several recordings that have been widely recognised as classics in their very different spheres, three of them included in today's programme.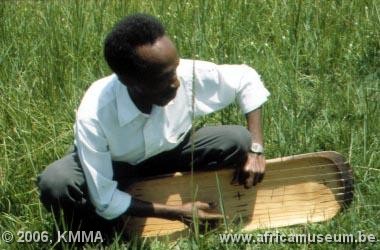 inanga musician
I had never known the name of the zither musician until it was pointed out that Francois Muduga is identified on the Ocora website. I always hear him as a forerunner of the growly vocal style of Dr John and Tom Waits, with a sophisticated understanding of dynamics.
Babatunde Olatunji
Babatunde Olatunji was a Nigerian percussionist who recorded for Columbia Records in New York where he became the inspiration of many American percussionists, both professional and amateur. 'Jin-Go-Lo-Ba' became a big hit for Carlos Santana.
The Burundi girls who whisper into each other's mouths are always a delight, and have been sampled more than once over the years.
Titi Robin's record company, Naïve, has recently reissued his 1992 album Gitanes , which I always took to be his debut until I checked his discography and saw that he had made two or three beforehand. But this was the album that introduced him to the world, particularly for the enchanting 'Pundela', sung by the Rajastani vocalist, Gulabi Separa.
Saban Bajramovic
There are several albums of early recordings by Saban Bajramovic but, perhaps because I was introduced to him in 2002 by the album of new recordings, A Gypsy Legend has remained my benchmark.
The Burundi Drummers
Finally, the most famous of the Burundi tracks by the percussion team named The Burundi Drummers. Many such units have visited the UK since then, who may have no personnel in common with the original line-up but they all make sure to play something that sounds like this.
(*) in my original post, I incorrectly wrote '1987'; thanks to Willy (below) for setting me straight
Listen again at
http://www.bbc.co.uk/iplayer/console/p0053fd0