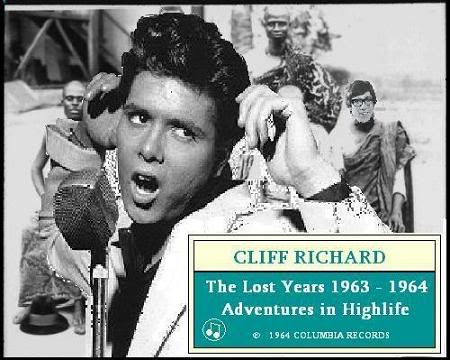 I'd read quite a lot about this album, but I still wasn't quite sure what to expect. It was famously described by Songlines as 'arguably the first genuine world music album' and a turning point in the history of Western popular music. Frankly, it was never that significant, more of a flirtation while on holiday in Nigeria. More of a footnote than a new chapter.
But beneath the hyperbole, there is actually quite an interesting album here. Made at the time of Beatlemania, when Cliff had suffered a dramatic fall from grace, these songs find him searching for a new direction. More than anything, 'The Lost Years' offers a tantalising glimpse on what might have been. Unlike the more famous and self-serving 'world music' pioneers such as Brian Jones and George Harrison, Cliff's flirtation with Highlife was carried out under the radar. His was an inner journey, seeking to reconcile Britain's post-colonial legacy with an opportunity to once again trouble the pop charts.
Some of Cliff's attempts at Highlife in general and, Nigerian patois in particular, are laughable and, by today's standards, almost offensive. But, at the time, they were truly pioneering. There are some dodgy moments here, particularly where Cliff is content simply to rework his earlier hits. This is perhaps typified in 'We're All Going On A Summer Safari' and 'Voodoo Doll' which, even now, should never have seen the light of day. But there are hints here of something truly impressive in the making. 'I'm Feeling Super' and 'A Tiger Never Changes Its Spots' are genuinely attractive songs (the latter a regional hit in Nigeria, reaching the coveted number 4 spot). And 'Ngonidothat', with its sinuous guitar runs from Hank Marvin, surely made an impression on Sir Victor Umaifo and a young Fela Kuti. Both tantalisingly present at these sessions but who didn't actually play.
A second disc provides alternate versions of some of the songs, together with some previously unheard studio chat (in the preamble to 'Voodoo Doll, for example, Cliff can clearly be asking for a glass of water). These provide a unique insight into his creative process and help put some of the later glories in their proper context.
Unfortunately, this was the mid-60s and Decca simply didn't know what to do with these recordings. They've languished in the vaults for over 40 years, gathering the dust of legend only previously associated with Dylan's 'Basement Tapes' or Edith Piaf's notorious Muscle Shoals sessions. It is only now, uncovered by the meticulous research of Avril Bouffon, that these recordings can be heard in their full glory.
Convinced that he had found a new direction, but frustrated by record company intransigence and public apathy, an embittered Cliff turned to drink, drugs and lady tennis players. Even worse, encouraged by hangers-on such as Sue Barker, he mounted a campaign of missionary work which only confirmed his feelings of despair at the squalor of humanity. It was an embittered, seemingly broken, man that returned to a swinging London.
But within three years, Cliff had regrouped. This time, astonishingly, he succeeded in raising the profile of world music in the UK, but through the less controversial route of the Eurovision Song Contest. It is surely no coincidence that the song in question – 'Congratulations' – bears more than a passing resemblance to 'Ngonidothat', recorded two years earlier in Nairobi. With his astonishing comeback complete, Cliff was once again able to command the attentions of Britain's crack songwriters and musicians and went on to produce a remarkable series of records. The rest, as they say, is misery.
I can only hope that this overdue reissue will help to rehabilitate the reputation of one of Britain's true musical pioneers. As ever with Cacophonie Records, the artwork is superb and the CD comes complete with a 237-page booklet, a gatefold sleeve, a small puzzle book, and a plastic toy.
****