Seq - Artist - Song Title - Album - Country - Label - Cat no
1 - James 'Blood' Ulmer - Are You Glad to be in America - Are You Glad to be in America - USA - DIW - R-510410
2 - Freddie Fender - Viejos Amigos (Old Friends) [with Conjunto de Carlos Hernandez] - Canciones de Mi Barrio - USA - Arhoolie - CD 366
3 - Jimmy Lewis - The Girls From Texas - One Minit at a Time - USA
4 - Willie Mae Thornton - Hound Dog - Texas Blues - USA - Rhino - R2 71123
5 - Delbert McClinton - Victim of Life's Circumstances - Delbert McClinton - USA - Raven - RVCD-65
6 - Staple Singers - Uncloudy Day - Jubilation: Great Gospel Performances, Vol 2 - USA - Rhino - R2 70289
7 - Jesse Winchester - Tell Me Why You Like Roosevelt - Learn to Love It - USA - Stony Plain - SPCD 1205
8 - Bessie Smith - Back Water Blues - Doom & Gloom - USA - Trikont - US-0364
---------------------------------------------------------------------------
In case you didn't notice, there's an American election due later this year. The BBC World Service has a team out there covering the lead-up to the big day, taking about six weeks to cross the country. The caravan started out a couple of weeks ago in Los Angeles and reaches Dallas Texas on Sunday 21st September. The itinerary takes them across northern Louisiana to Jackson, Mississippi, where it turns north to follow the river via Memphis to St Louis before turning east again across Tennessee to Nashville. This programme is a snapshot of music from that huge, musically rich region, and is necessarily incomplete and probably arbitrary. We could play such records continuously for 24 hours without a dip in quality. No point in agonising too much, lets just see what comes to mind and to hand.
James 'Blood' Ulmer
'Are You Glad to be in America?' by James 'Blood' Ulmer was an extraordinary record when it came out in 1980, and the passage of time has not made it seem any more normal now. A guitarist from Houston who had played with Ornette Coleman before branching out on his own, Ulmer has recorded sporadically ever since but I've never heard anything to match this debut, in which David Murray on saxophone provides a perfect counterpoint to Ulmer's mostly mumbled message. I always liked the couplet about Cadillac cars, full of caviar, which I think he is suggesting everybody is entitled to in America. Irony is heavy throughout. Did the Guinean saxophonist Momo Wandel Soumah ever hear this track? 'Toko' would be the perfect song to play next.
Freddie Fender
Instead, Freddie Fender is on hand to represent the Tex-Mex sound that you hear in bars throughout Texas, where more than half the population have Spanish as their first language. Although 'Viejos Amigos' was recorded back in the early 1960s, the style has remained remarkably unchanged, and nobody ever sang better than Freddie, who later had several big pop and country hits (mostly sung in English) in the early 1970s.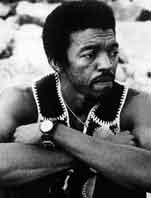 Jimmy Lewis
Born in Itta Bena, Mississippi (birth date, anyone?), Jimmy Lewis recorded the humorous 'Girls from Texas' for Minit Records in 1967, and soon afterwards became a staff writer for Ray Charles. Briefly a member of The Drifters, Jimmy has made a good living as a song writer ever since, but I've never heard anything to beat this Joe Tex-style secular sermon, revived by Ry Cooder on his Borderline album in 1981. So far as I can tell, it's not available on CD.
Willie Mae 'Big Mama' Thornton
I love to watch the faces of people hearing 'Hound Dog' by Willie Mae 'Big Mama' Thornton for the first time. So familiar with the Elvis hit from 1956, they always assumed that his was the original version, and it takes a while for the realisation to sink in that this really is the same song, but so radically different. The very young Jerry Leiber and Mike Stoller wrote it specially for Willie Mae, whose record was produced in 1953 for Peacock Records of Houston by Johnny Otis, whose guitarist Pete Lewis turned his part into a wordless but still eloquent duet with the vocalist.
Delbert McClinton
If there are any listeners beginning to wonder whether they are hearing a re-run of one of my Honky Tonk programmes on Radio London in the 1970s, their suspicions will be confirmed by the next song, 'Victim of Life's Circumstances'. Scandalously, this vibrant title track of an album by Delbert McClinton was deemed incompatible with the formats of American radio at the time, and it was another ten years before the Lubbock-born singer finally had a hit under his own name (having been the precocious harmonica player on 'Hey! Baby' by another Texan singer, Bruce Channel, back in 1962).
From the first shimmering chord that introduces 'Uncloudy Day' by the Staple Singers, you know you are in Mississippi, even if the record was actually made in Chicago. Hard to believe Mavis Staples was still a teenager when she delivered this dark vocal, in 1957.
Jesse Winchester (looking less haunted these days)
Jesse Winchester was born in Bossier City, Louisiana, in 1944, but went north to Canada rather than serve as a soldier in Vietnam. I'm assuming he sneaked across the border to record Learn to Love It at Bearsville Studios in upstate New York in 1974, but maybe somebody out there knows better. Recommended by a Honky Tonk listener to check the album out soon after its release, I managed to find an import copy which soon became a favourite and has remained in my all-time top ten to this day. Thirty minutes of perfection, none better than this revival of an old Soul Stirrers record, with a neat little reference to Jesse's own predicament by name-checking the Canadian prime minister, Pierre Trudeau.
Bessie Smith
Having blithely repeated in public Big Bill Broonzy's mythical tale that Bessie Smith's 'Back Water Blues' was the winner of a song-writing competition held after the Louisiana Flood of 1927, I'm glad to rectify the error and confirm that the song was written as Bessie's reaction to an earlier flood near Nashville. James P Johnson plays the astonishing piano.
In three weeks' time, we will catch up with the World Service caravan as it reaches New York.