Seq - Artist - Song Title - Album - Country - Label - Cat no
1 - Orchestra Baobab - Ndeleng Ndeleng - Made in Dakar - Senegal - World Circuit - WLWCD078
2 - Shantel & Bucovina Dub Orchetra - The Veil - Disko Partizani - Germany - Crammed - CRAW41
3 - Mor Karbasi - Nuestros Amores - The Beauty and the Sea - UK/israel - Mintaka - MINBT003
4 - Mamani Keita & Nicolas Repac - Djama Nyemao - Yelema - Mali/France - No Format - NDF 9
5 - Dengue Fever - Sleepwalking the the Mekong - Escape from the Dragon House - USA/Cambodia - Birdman - BRG 137
6 - Toumani Diabate - Ishmael Drame - Mande Variations - Mali - World Circuit - WCD079
------------------------------------------------------------------------------
Most British music festivals are the province of young music fans with no families to worry about, and the archetypical newspaper pictures show people gambolling in mud in defiance of the elements. By contrast, WOMAD Festivals have been thought of as safe places for the entire family – grandparents, infants and everybody in between – with a guarantee of sunny weather regarded as being part of the package.
Last year's event, the first at Charlton Park in Wiltshire after many years in Reading, challenged all preconceptions, as torrential rain turned the park into a quagmire that defied enjoyment. Desperately trying to deal with unforeseen difficulties, WOMAD's organisers had to hire additional equipment and lay down hard surfaces, incurring costs far beyond predicated budgets and bringing the organisation close to financial disaster.
Many long-serving staff were laid off, and earlier this year came the surprising news that co-founder and Artistic Director Thomas Brooman had left the company, without any public explanation. Weeks later, he was the proud recipient of an MBE for services to music. Strange timing.
By the time Thomas's departure was announced, the majority of artists for this year's Festival had already been chosen and contracted, so the 2008 event is not so much a new beginning as a sort of bridging Festival, sticking to established features while plans are drawn up for how to go forward in future years.
Orchestra Baobab
A quick look at the bill reveals a few familiar names such as Orchestra Baobab and Toumani Diabaté, both featured in this week's preview programme, alongside some anomalies that nobody has explained – Little Feat (the 70s rock group whose singer-songwriter Lowell George died in 1979) and Chic (the 80s disco group whose bass-playing co-founder Bernard Edwards died in 1996). WOMAD never did confine itself to narrow definitions of world music, but these revivalist groups seem to be outside its brief.
Shantel
Among the WOMAD first-timers featured here, Shantel is the former winner of the Club Global category in the Radio 3 Awards for World Music, a multi-talented German DJ who has doubled up as re-mixer, record producer, band-leader and score composer.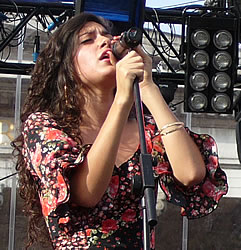 Mor Karbasi
Mor Karbasi is the British-based singer of Ladino music, whose repertoire is parallel to that of the Israeli singer, Yasmin Levy. And in common with Yasmin, Mor Karbasi is a beautiful woman blessed with charisma that holds her audiences spellbound.
Mamani Keita and Nicolas Repac
I did not do proper justice to the album Yelema by Mamani Keita and Nicolas Repac when it was released in 2005, and am glad to have been brought back to it by their inclusion on the WOMAD bill. Mamani has a very distinctive, edgy voice that will not be to everybody's taste straight away. But give her time, absorb the strength of her songs and the originality of the arrangements, and you may come to agree that she is a major talent.
Chhom Mimol, of Dengue Fever
The concept behind Dengue Fever is so strange, it's as if a Svengali figure commissioned them for a performance art project: take a bunch of Los Angeles musicians who look and sound like a Z Z.Top tribute band and have them sing with a vocalist from Cambodia. But actually they came up with the idea themselves, after discovering that in Cambodia there is a cult for American garage band rock music, based on cassettes left behind in the aftermath of the Vietnam War. Dengue Fever simply carry the idea to its logical conclusion. While most of their repertoire is rowdy, I prefer the reflective 'Sleepwalking in the Mekong'.
From 8 to 10 on Sunday evening, I'll be hosting a programme on the Radio 3 stage in the Arboretum at Charlton Park, presenting a bill of four artists playing three songs each: Devon Sproule (the lively singer-songwriter from USA, with a four-piece backing band), Sa Dingding (the Chinese singer, with an acoustic line-up different from her main performance at the Festival), Zuzana Novak (the British-based, Czech-born mbira player and singer) and members of Orchestra Baobab, in a six-man line-up led by guitarist Barthelemy Attiso that may be a world exclusive!