Seq - Artist - Song Title - Album - Country - Label - Cat no
1 - Gong Chio Xia - Chiang Wei Cu Cu Kai - Rough Guide to the Music of China - China - World Music Network - RGNET 1122 CD
2 - Bei Bei - Songs from Qian - Quiet Your Mind and Listen - China - Standby - 5917C1215
3 - Dadawa - Flown Away - Seven Days - China - Jingwen - 788088 2243
4 - Kin Taii - Nocturnal Light - Rough Guide to the Music of China - China - World Music Network - RGNET 1122 CD
5 - Sa Ding Ding - Holy Incense (Tibet Version) - Alive - China - Universal - 60251732006
6 - Liu Fang - Première Rencontre [featuring Ballaké Sissoko] - Le Son de Soie (Silk Sound) - China/Mali - Accords Croisés - AC 116
--------------------------------------------------------------------
Timed to coincide with the World Service's focus on China, this week's programme scratches the surface of the country's music, about which I am shockingly ignorant. Paul Fisher's compilation, The Rough Guide to the Music of China, is a wonderful crash course that starts back in the 1930s and comes right up to date. I could have just set it to play and said a few words in the gaps. But I like to make my life harder than that.
Bei Bei [photo courtesy
www.myspace.com/beibei
]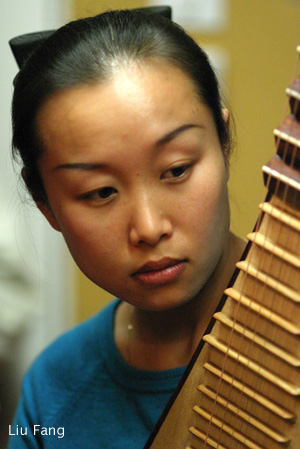 [photo by Philip Ryalls]
Two of our six tracks feature sophisticated instruments unique to China played by young women based in North America, the gu zheng (zither-ish) by Bei Bei, and the pipa (lute-like) by Liu Fang, who now live in USA and Canada, respectively.
Kin Taii
The other four are all East-West hybrids, starting with Gong Chio Xia, whose song from the 1930s sounds like something the Andrews Sisters might have done. Demonstrating the range of music to be found on The Rough Guide to China, Kin Taii is based in Japan where his combination of ancient and modern results in a sound reminiscent of Makoto Kubata's Blue Asia.
Dadawa
Dadawa and Sa Ding Ding are young Chinese women who controversially but very effectively frame Tibetan texts and melodies with modern production.