Seq - Artist - Song Title - Album - Country - Label - Cat no
1 - Dengue Fever - One Thousand Tears of a Tarantula - Escape from the Dragon House - Cambodia/ USA - Birdman - BRG 137
2 - Holgar Czukay - Persian Love Song - Oriental Garden Vol 5 - Germany - Lola's World - cls000 1052
3 - Terrakota - Maghrebi - Oba Train - Portugal - Felmay - FY8127
4 - Jorge Drexler - Disneylandia - 12 Secundos de Oscuridad - Uruguay - Warner Uruguay - 25646 3828-2
5 - Errol Dunkley - The Scorcher - Rare Grooves reggae 5 - Jamaica - Wagram - 3123385
6 - Trio Matamoros - Mujer Celosa - Latin America takes Africa by storm - Cuba - Topic - TSCD927
-------------------------------------------------------------------
Sometimes I stuff a bunch of recently-arrived CDs in a bag when I set off on a car journey, and put them in the CD player one at a time without looking to see what's what.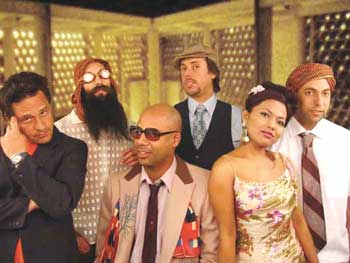 Dengue Fever
It took me a while to work out what I was playing when Dengue Fever started. Instrumentally, it sounds like one of those compilations of American garage bands from the 1960s that Ace Records puts out. But then the vocal comes in, and we're somewhere else entirely. This album by Dengue Fever arrived shortly after listener Eddie Punch (*) sent an email from Cambodia to report that all he heard out there was music by bands that sounded like they'd been stuck in a room with nothing but records by Sam the Sham and the Music Machine for company. OK, Eddie, now I see (or rather, hear) what you mean. (*: no, it wasn't Eddie, it was Jimmy Baeck, see email responses below)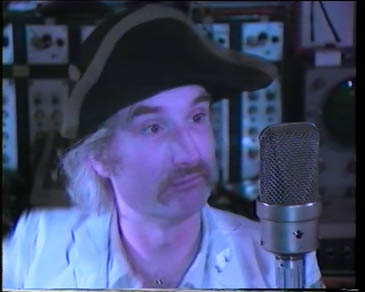 Holgar Czukay
I play 'Persian Love Song' by Holgar Czukay once every three or four years, just to remind myself and anybody out there how pretty it is. He was in the far-out German rock group Can in the '70s; the Persian voices are samples from long ago.
Terrakota
Judging by their names, each members of Lisbon-based Terrakota comes from a different country. We'll know more when journalist, DJ and forum contributor Jamie Renton files his report in the next issue of fRoots Magazine.
Jorge Drexler
Jorge Drexler is from Uruguay, where he enrolled the help of Kevin Johansen from neighbouring Argentina in this atmospheric track from his last album.
Errol Dunkley
Errol Dunkley had a UK hit in the '70s with a novelty song 'OK Fred', but from the sound of his voice, 'The Scorcher' must date back ten years earlier at least – he sounds like he's in his early teens. Such a brilliant groove.
Trio Matamoros
And finally another track by Trio Matamoros from the album of Cuban recordings made in the 1930s and '40s which were such a big influence in Africa.