posted on behalf of CG
Seq - Artist - Song Title - Album - Country - Label - Cat no
1 - 17 Hippies - Son Mystère - Heimlich - Germany - Hipster - HIP 012 LTD
2 - Ljiljana Buttler - Mala Garaba - Legends of Life - Macedonia - Snail - SR 66006
3 - Los De Abajo - The Lunatics are Taking over the Asylum - LDA vs The Lunatics - Mexico - Real World - CDRW134
4 - Sissy Atanassova - Binnaz - bumbumboje - Bulgaria - Sensible - SSB 020
5 - Juana Molina - Malherido - Son - Argentina - Domino - WIGCD176
6 - Urna Chahar-Tugchi - Ejin Bogdin Hoyor Jagal - Jamar - China (Mongolia) - Wind - TMCD 378
--------------------------------------------------------------------------
I have a soft spot for groups formed by a loose collective of friends who have no ambition or expectation of making a living from music, still less of becoming famous around the world. They play at parties and local festivals, until somebody says, 'why don't we make a record?' 17 Hippies have made four or five albums, depending on whether you count a soundtrack of two, and Heimlich is their best yet. The group take turns to sing lead, in German, English, and even French, as on 'Son Mystère' which features Kika Sauer.
17 Hippies
One by one, the legends of Balkan gypsy music are belatedly emerging into the glare of international attention, most of them lured back into the studio by ten-foot-tall Dragi Å estič. He may be friendly, but he's very big, and they don't seem to be able to say 'no', even though that's what they've said to everybody else for decades. The latest to fall for Dragi's persuasive ways is Ljiljana Buttler, whose voice is so low, you have to check the sleeve to confirm, yes this is a woman singing.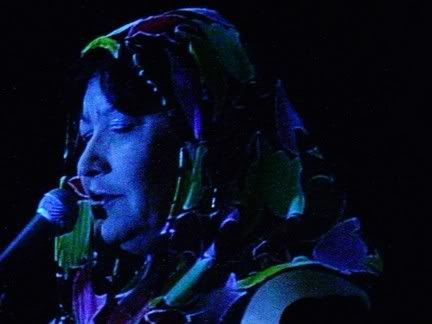 Ljiljana Buttler
Back in the early 1980s, British pop was enlivened by the sound of Two-tone, led by bands from the Midlands featuring black-and-white collaborators reviving ska, rock steady and reggae. While UB40's soft reggae conquered the world, the tougher sound of The Specials, The Beat and The Fun Boy didn't export so well. But their records were savoured as underground treasures by musicians who formed Mano Negra in France and by countless bands throughout Latin America. It's amazing how Los de Abajo's version of The Fun Boy Three's 'The Lunatics are Taking over the Asylum' sounds so natural in Spanish, as if this is how it was meant to be. Did this get played on Mexican radio?
Los de Abajo
When I played a song by the Bulgarian singer Sissy Atanassova on the World Service three years ago, I received more emails than I have had about any another track. But there was no follow through, no emergence outside Bulgaria. Sissy has not made another album since, so here's a different song from the same album.
Sissy Atanassova
Thanks to the miracles of modern recording science, Juana Molina plays and sings everything you hear on 'Malherido', following in the footsteps of Les Paul and Mary Ford, who pioneered multi-tracking tricks back in the early 1950s. One day I'll play them back to back.
Juana Molina
We finish with Urna Chahar-Tugchi, the daughter of Mongolian shepherds, who left home as a teenager to study music in Shanghai. Untrained as a singer, she has collaborated with many Western musicians and lived for several years in Germany before moving to her present home in Cairo, Egypt. This song, about two of Genghis Khan's horses, features Burintegus playing the morinkhur, Mongolia's horse hair fiddle.
Urna Chahar-Tugchi
CG
_________________________________________________
Full details will also be posted on the home page under the 'World of Music' lists with weblinks and sleeve images in a few days
http://tinyurl.com/23sc4b