I'm currently stuffing as much of the Maddox Brothers and Rose that will fit between my ears. At around 2 minutes each, I find that I can pack in a lot of tracks.
I suspect the experts will argue that the earlier recordings, reissued on Arhoolie, are their best recordings. It's the sort of thing that experts always say. I think the early stuff is fine but the later Columbia stuff is finer. Dating from 1953 to 1957, the quality of the recordings is better and, towards the end, there's some fantastic hillbilly-meets-rockabilly.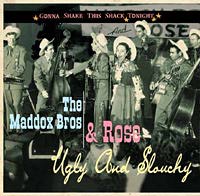 This single CD, which came out in 2006, distils the 4-CD box set that Bear Family Records brought out a few years earlier and focuses on the faster, breezier numbers. The highlights are undoubtedly 'Ugly and Slouchy' and 'Death of Rock and Roll' (the latter a cheeky version of 'I Got a Woman' done as a tongue-in-cheek parody of Elvis and company). But the revelation for me was the quality of the tracks that I'd never heard before. Tracks like 'You Won't Believe This', 'Paul Bunyan Love' and 'the Hoot-Owl Melody'. Particular favourites, at the moment, are 'I Gotta Go Get My Baby' (which goes through some dramatic changes in pace and features a wonderfully cartoon hick pronunciation of 'bayheebee'), and the blisteringly fast rockabilly of 'Let Me Love You'.
The striking feature throughout the 30 tracks (yes, that's right, 30 tracks on a single CD!) is the good humour that peppers each song. Even when they're playing things fairly straight they're always likely to throw in a few hollers and shrieks. This sort of spontaneity must have taken a lot of rehearsing. And everything is taken at such a furious pace, with not a second wasted. 'Let Me Love You', for example is 2 minutes 2 seconds of pure, distilled energy. Just sitting and listening, I feel my pulse rising.
Possibly not to everyone's taste. After all, they did wear cowboy hats and matching cowboy suits and had a determinedly cheerful air throughout proceedings. This is possibly the best CD I've heard all year.
*****