Seq - Artist - Song Title - Album - Country - Label - Cat no
1 - Bonga - Nguenda - Bairro - Angola - Lusafrica - 562212
2 - Radio Kijada - Agua e'nieve - Agua Nieve EP - Switzerland/Peru - Wrasse - WRASS promo
3 - Alejandro Fernandez - Ojo por Ojo - Que Seas Muy Feliz - Mexico - Epic - EPC 479835 2
4 - Calexico - El Gatillo - Carried to Dust - USA - City Slang - no cat no
5 - Oumou Sangare - Sukunyali - Seya - Mali - World Circuit - WLWCD081
6 - Franco et Le TPOK Jazz - Mabele - Francophonic - Zaire (DR Congo) - Sterns - STCD3041-2
----------------------------------------------------------------
Five weeks in, the musical new year starts here, with tracks from four albums that are likely to help define the sound of 2009.
Bonga
The Angolan singer Bonga has made so many records since his path-breaking debut in 1972, I doubt if he can remember them all. Back then, he was a revered athlete who had represented Portugal in the Olympics, and his songs had a subversive role, expressing and challenging Angola's status as a viciously controlled colony. But while the meaning and impact of those songs depended at least partly on understanding the words, the range of sounds and rhythms on his latest, Bairro, suggest a different intention, to celebrate music of not only the Lusophone (Portuguese-speaking) world, but the French Caribbean and Colombia too. This really is one of those rare albums that you can play tracks from at random, any song will do.
Christoph H Mueller, centre
By coincidence, there are two new releases offering modern production frameworks for traditional Peruvian songs and melodies. Novalima will get their turn in three weeks' time, but here's Radio Kijada, the latest adventure from Christoph H Mueller, the third member of Gotan Project to launch his own spin-off of the multi-million-selling Tango team, in conjunction with lesser-known singers from Peru.
Alejandro Fernandez
Alejandro Fernandez is a very popular Mexican singer whose greatest hits collection Que Seas Muy Feliz switches from syrupy pop to more distinctive Mariachi arrangement on several songs including 'Ojo por ojo' (eye for an eye). Thanks to Nick Urata of the Colorado group DeVotchKa for the introduction.
Calexico
Calexico is a slightly schizophrenic group from Tucson, Arizona, which wavers between rock and a softer place where Mexican and Tex-Mex melodies and instrumentation recall an era when American pop music often incorporated such flavours. Most tracks on the new album include vocals, and although 'El Gatillo' is an instrumental, there's a suspicion that it might have been intended to be a vocal but was mixed without it as a last minute experiment.
Oumou Sangare [photo:
www.afropop.com
]
It's been so long since Oumou Sangare's last album (apart from a career retrospective), would she be capable of picking up where she left off about ten years ago? Resoundingly, yes she is. Seya is wonderful from first track to last, much more varied than any previous record, and feeling at times like a compendium of everything that is great about Malian music today, mostly acoustic but never afraid to throw in a blast of electric guitar now and then.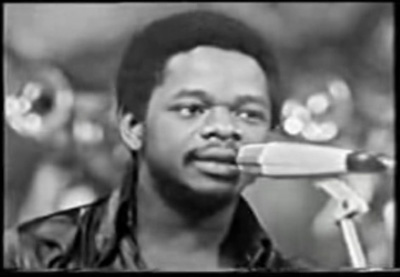 Sam Mangwana, from his days with OK Jazz
Juggling two regular shows, I'm in danger of losing track of which record I have played in which programme. Having featured the retrospective compilation of the Congolese band leader Franco several times on Radio 3, I realise with a shock that I have not yet played anything from it on the World Service. Time to make amends, with the yearning 'Mabele' featuring the poignant vocals of Sam Mangwana from his brief period as one of the group's lead singers. More comments on the exemplary compilation album, FrancoPhonic, are posted on the home page under 'Album of the Month' for December 2008.