Seq - Artist - Song Title - Album - Country - Label - Cat no
1 - Sexteto Nacional - Siboney - The Music of Cuba 1909- 1951 - Cuba - Sony Legacy - COL 498709-2
2 - Trio Matamoros - Son de La Loma - CUBA: I Am Time, vol 2 - Cuba - Blue Jackal - Bjac 5012-2
3 - Benny More - Maracaibo Oriental ( with Perez Prado Orch) - The Best of Benny More - Cuba - Columbia - 486323-2
4 - Lecuona Cuban Boys - Tabu - The Music of Cuba 1909- 1951 - Cuba - Sony Legacy - COL 498709-2
5 - Arsenio Rodriguez y su Conjunto - No Me Llores Mas - Dundunbanza - Cuba - Tumbao - TCD-043
6 - Mongo Santamaria - Watermelon Man - Skin on Skin - Cuba/USA - Rhino - R2 75689
7 - Rubén González - Tumbao - Introducing…Rubén González - Cuba - World Circuit - WCD 049
-----------------------------
Marking the 50th Anniversary of Cuban independence: Cuban music from an eighty year span.
As in so many other countries, the music of modern, urban Cuba evolved from sources in the countryside, but Cuba was unusual in having several orchestras specifically set up to play the repertoire of a particular composer, often a non-playing member who did not travel with the band.
Sexteto Nacional
Reputedly the fourth professional sextet to be founded in Cuba, Sexteto Nacional was formed in 1927 by Ignacio Piñero who wrote much of the group's repertoire, but not the world famous 'Siboney' (pronounced Sibonay), composed by Ernest Lecuona. The song's melody made it one of the most performed songs over the next decade after American publisher Leo Feist acquired rights and procured many cover versions; over the years, the song was recorded by artists as diverse as Gracie Fields, Slim Gaillard and Connie Francis. Part of the charm of the original version is the surprising entry of the singer known as Carusito (Little Caruso) about half way through the performance. It sounds as if he suddenly steps up the mic to sing, having been unheard at the back of the room until that point.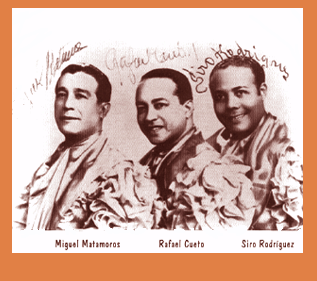 Trio Matamoros
Trio Matamoros was founded in 1925 by Miguel Matamoros whose song 'Son de la Loma' celebrates the people who come from the hills and sing on the plains. In 1940, Matamoros introduced Guillermo Portobales as both singer and composer, and ifive years later the larger Conjunto Matamoros was on tour in Mexico with a new singer, Benny More, whose music became hugely popular in Spanish-speaking Central America several years before he matched that reputation back home in Cuba.
Benny More
Now universally acknowledged as the greatest Cuban singer of all time, Benny More made many of his best recordings with Perez Prado, the Cuban band leader based in Mexico for many years who developed his own distinctive version of Cuban music, known as Mambo, with a rich, fruity horn section to the fore. 'Maracaibo Oriental' has a typical Prado arrangement.
Lecuona Cuban Boys
Although the Lecuona Cuban Boys were designed as a showcase for the songs of Ernesto Lecuona, mentioned above, one of their most famous songs, 'Tabu' was actually written by his cousin Margarita (incorrectly identified as his sister in this broadcast, unfortunately perpetuating a common misconception) . Introduced to the world in this version made in Paris in 1928, 'Tabu' has been recorded many times since, eventually making the American pop chart in 1962 as 'Taboo' by the Hawaiian musician, Arthur Lyman
Arsenio Rodriguez
The blind singer and guitarist Arsenio Rodriguez was a constant member of the touring group which played his repertoire of songs, many of which are still widely played in Cuba, including 'Mo Me Llores Mas'. The American guitarist Marc Ribot, best known for his association with Tom waits, recorded two albums in tribute to the music of Arsenio Rodriguez, both highly recommended, particularly the first, titled Marc Ribot y los Cubanos Postizos.
Mongo Santamaria
After the Cuban Revolution of 1959, it became necessary for Cuban musicians to choose sides, to play exclusively in Cuba or to join the American mainstream music industry in New York. Ramon 'Mongo' Santamaria (born in Havana in 1917) moved to New York where he became first choice Latin American percussionist for many artists and producers, while regularly making records under his own name too. In 1962, his version of Herbie Hancock's 'Watermelon Man' became a surprise top 10 hit for the tiny Battle label, featuring the demonic yelps of the Cuban singer La Lupe. When the specialist Latin dance label Fania started marketing his record under the generic title of Salsa Music, Mongo was vocal in dissociating himself from this banner. To him, what he played was Cuban music, no matter how politically inconvenient that might be. He resented being grouped together with musicians from Puerto Rico and Dominican Republic, as if they all played the same thing. For Mongo, the differences were more important than the apparent similarities.
The cultural and physical embargo imposed by successive American governments on any exchanges with Cuba made it very difficult for Cuban-based musicians to make a living, either at home or abroad. In 1996, the British record producer Nick Gold and the American guitarist Ry Cooder pooled their shared fascination with Cuban music of a bygone era, and with guidance and encouragement from the Cuban musician Juan de Marco Gonzalez, convened recording sessions which resulted in three albums credited respectively to Juan de Marco's own group The Afro Cuban Allstars, a newly-minted concept dubbed The Buena Vista Social Club and the discovery of the sessions, pianist Ruben Gonzalez. The programme finishes with a standout track from Introducing Ruben Gonzalez, whose sudden emergence into the international spotlight was one of the greatest delights of the last years of the twentieth century.
isten again for 7 days via this link
http://tinyurl.com/3zdnxx