Seq - Artist - Song Title - Album - Country - Label - Cat no
1 - Buika - no habra nadie en el mundo - niña el fuego - Spain - Atlantic - 256 469 5477
2 - Rokia Traore - Zen - Tchamantché - Mali - Nonesuch - 465 532-2
3 - Issa Bagayogo - Poye - Mali Koura - Mali - Six Degrees - 657036 1151 2
4 - Chiwoniso - Matsotsi - Rebel Woman - Zimbabwe - Cumbancha - CMB-CD8
5 - Umalali - Merua - Garifuna Women's Project 2 Belize Cumbancha CMB-CD-6
6 - Driss El Maloumi, Ballake Sissoko, Rajery - Toufoula - 3MA - Morocco, Mali, Madagascar - Contre Jour - CJ020
7 - Sjahin During - Otra Mundo [feat Arto Tuncboyaciyan] - Afro Anatolian Tales - Netherlands/ Turkey/ Armenia - Rein Music - RMP 8057
--------------------------------------------------
This programme was planned and recorded ahead of the announcement of albums of the year by fRoots Magazine (polled from over 300 critics, musicians and other professionals) and Songlines (nominated by the editor), but there are several overlaps, with the albums by Rokia Traore, Issa Bagayogo and Umalali also appearing in the fRoots list, and Buika's Niña el Fuego in the Songlines list.
Buika
One of the surprises of the year was the line-up of Buika's live presentation at the QEH in November, with just grand piano and a kit drummer for accompaniment. Impressively, the tiny Buika demonstrated her versatility by moving far from the guitar led arrangements of her album, devised by producer Javier Limón. I can't recall such a difference between a singer's live sound from that of her recent record.
Rokia Traoré
I missed Rokia Traoré's gig at the Jazz Café the previous night, but all the reports were unanimous – Rokia not only managed to match the delicacy of her recent album but revealed a new, energetic onstage persona the captivated the audience. Hopefully she will come back soon to play a more compatible venue.
Issa Bagayogo
There are rumours that Issa Bagayogo may come to play live in the UK in 2009. Until now, his career has suffered from inconsistent presentation, with isolated albums unsupported by regular live appearances. But he did impress at WOMAD a few years ago (I would have guessed 2005, but on checking the search engine above can see that it was as far back as 2002). Issa plays the kamal ngoni, which despite its similar name is not the same instrument as the ngoni played by Bassekou Kouyate.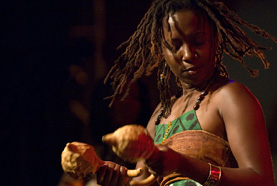 Chiwoniso
Chiwoniso's album has not met with much critical approval in the UK, but I believe she will emerge as the first African singer to challenge the West African hegemony in current world music circles. Among her many virtues, Chiwo sings very well in English too and is an effervescent interview companion.
Umalali
When Umalali's album came out early in the year, it instantly felt like to be a landmark release. So it has proved, despite the disappointment of no reinforcing live appearance by the group of Garifuna women at any of the UK's summer festivals. The greatest surprise was the reported intransigence of WOMAD's artistic director Thomas Brooman, who soon afterwards moved on from that position. By the time a new team was in place at WOMAD, which might have adopted a friendlier line toward Umalali, the possible dates at the end of July had been filled with bookings elsewhere in Europe. Even so, the album has remained in the memory and on playlists, and now takes its rightful place in our top seven. The combination of accessible rhythm tracks and bitter-edged vocals works equally well on every track.
Driss El Maloumi, Ballaké Sissoko, Rajery
In a year when Toumani Diabaté's album The Mandé Variations received more praise than is usually granted to instrumentals, I was even more impressed by the encounter between three musicians from countries whose names (in French) start with te letter 'Ma' – hence the album title, 3MA. A cousin of Toumani Diabaté, Ballaké Sissoko is another internationally-acclaimed virtuoso kora player, who manages to find space in the messh of strings played by Rjaery from Madagascar and (a new name to me) Driss El Maloumi from Morocco (Maroc). The album ebbs and flows beautifully, and might have been more widely acclaimed if the trio had played live in the UK (as they did in Ireland).
Sjahin During; Arto Tuncboyaciyan
Sjahin During (pronounced Sha-heen Doo-ring) is hardly a household name even among the connoisseurs of world music, but Sjahin, a Turkish percussionist based in The Netherlands, did involve some better known names on his album Afro Anatolian Tales, including Arto Tuncboyaciyan, whose distinctive voice attracted many comments from listeners when I played the song earlier in the year.