Inadvertently first posted as the show to be broadcast on Nov 16.
link to this programme:
http://www.bbc.co.uk/worldservice/progr ... lett.shtml
Seq - Artist - Song Title - Album - Country - Label - Cat no
1 - Mario Lucio - Diogo e Cabral - Badyo - Cape Verde - Lusafrica - 02392-2
2 - CéU - Malemolência - CéU - Brazil - Six Degrees - 657036 1129-2
3 - Uun Budiman and the Jugala Gamelan Orchestra - Bayu Bayu (The Winds) - Banondari: New Directions in Jaipongan - Java (Indonesia) - Felmay - fy8098
4 - Rasha - Alara Alhai - Acoustic Arabia - Sudan - Putumayo - PUT 282-2
5 - Sir Victor Uwaifo - Iye Iye Oh - Guitar-Boy Superstar - Nigeria - SoundWay - SNDWCD012
6 - The Shadows - The Savage (*) - The Original Chart Hits 1960-1980 - UK - EMI - CDS7937522 (* see corrections below)
7 - Jonuzi Me Shoket - Vome Kaba - Sprigs of Time - Albania - Honest Jons - HJRCD36
----------------------------------------------------
As I go through each week's pile of newly arrived releases, guided by assistant Lilly Ladjevardi, I copy and file the most arresting tracks on Real Player (which I prefer to the iTunes menu as a means of sequencing tracks, for no reason I can articulate), and begin to assemble a set of three playlists, usually bringing back one or two tracks played in previous weeks or months. If there was any inner logic behind this week's selection, it eludes me now. Depending on how long you've been listening, you may recognise as many as four from earlier shows.
Mario Lucio
In a period when all the newly emerged singers from Cape Verde have been female, Mario Lucio stands almost alone. Previously leader of Simentera, an adventurous vocal group, Mario is a good although not remarkable singer,whose strength is in his arrangements, which use catchy backing vocals to frame his own lead voice.
CéU [photo:
www.worldmusiccentral.org
]
CéU's debut album is over a year old and yet still spring surprises and new discoveries. Intriguingly, this has been the bestselling Brazilian album on Amazon for most of the year, despite no promotional interviews or performances. A true word-of-mouth record, which sets up a promising follow-up project Sonantes, also recorded in Saõ Paulo, to be featured in a forthcoming programme.
Rasha [photo:
http://www.m-huether.de/sudan/
]
Rasha is a Sudanese singer based in Spain, where her brother Wafir first came to attention as the saxophonist and flautist with the live formation of Radio Tarifa. On the two albums Rasha made during the late 1990s, one song stood out by a mile - 'Alara Alhai' attracted the attention of album compilers right from the start. Hamid Zagzoule included it on Tea in Marrakesh (still probably the best-ever compilation of popular music from the countries bordering the Sahara – Earthworks STEW44CD), and now the song reappears on Putumayo's Acoustic Arabia.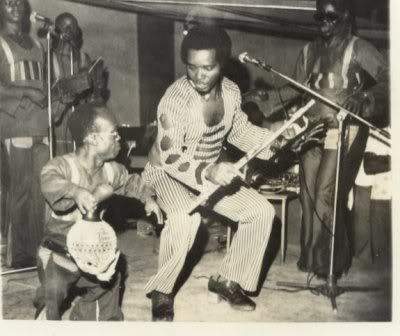 Sir Victor Uwaifo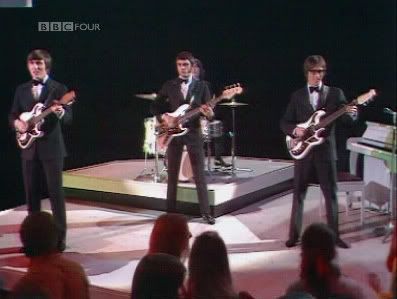 The Shadows
During the conversation a few months ago with the Nigeria guitarist Sir Victor Uwaifo, I asked him which Western guitarists he had listened to back in the 1960s and he immediately cited Hank Marvin of the The Shadows, who were the most popular British group in the era immediately before The Beatles changed everything both by singing and by dropping the choreographed stage movements that had been standard practice. Always melodic and rhythmic, The Shadows were remarkably consistent – I could have played any of a dozen tunes to make a valid musical connection to Victor's own record.
Jonuzi Me Shoket [NB. the group pictured may not be them]
I played a track from The Sprigs of Time a few weeks ago. This is the collection culled from the archives of EMI Records by Mark Ainley of Honest Jons's Records, with no evident principle behind the sequencing. If it sounds interesting, its turn comes next. Jonuzi Me Shoket is probably the first Albanian group I've ever played on the radio. Wonderful suspense in the track's evolution – what will happen next?