Seq - Artist - Song Title - Album - Country - Label - Cat no
1 - Å aban Bajramovic - I Bar Val Pudela - Princes amongst Men - Serbia - Asphalt Tango - CD-ATR 1608
2 - Taj Weekes & Adowa - Propaganda War - Deiden - St Lucia - Jatta - 652279 070026
3 - Les Freres Guissé - Mijjo - Yakaar - Senegal - Mon Slip - MS 22
4 - CéU - Malemolência - CéU - Brazil - Six Degrees - 657036 1129-2
5 - Son de la Frontera - Buleria en rama - Cal - Spain - World Village - 468069
6 - Burkina Electric - Mdolé - Rêem Tekré - Burkina Faso/USA - Ata Tak - WRS04
---------------------------------------------------------------------
Å aban Bajramovic
Garth Cartwright's account of Gypsy music in the Balkans, Princes Among Men, continues to spread itself around the world, having been translated into several languages, and now receives it the boost of a soundtrack album. I can't understand how I didn't notice the riveting track he has chosen by Šaban Bajramovic, when it was first released on the source album on World Connection in 2001, but here it is, a belated discovery in the year that Šaban died.
Taj Weekes [photo:
www.spectrarecords.com
]
After Bob Marley died in 1981, Jamaican music virtually abandoned most of the qualities that had made him so universally loved, and it seemed that reggae would become for ever associated with the 1960s and '70s. But singers in Africa and neighbouring Caribbean islands have taken up the classic form of meaningful lyrics delivered by heart-touching vocalists, among whom Taj Weekes from St Lucia is one of the best. A new name to me, he is already widely popular in North America, Germany and Jamaica itself.
http://www.myspace.com/tajweekesadowa
Les Frères Guissé
Previous producers of Les Frères Guissé made their jobs unnecessarily complicated, adding instruments that just got in the way. The Senegalese group's new album shows how to do it – keep things simple, allow their voices do all the work.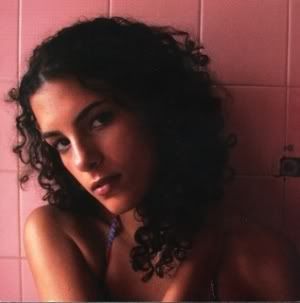 CéU
Sifting through the piles of newly arrived albums, some get thrown out straight away, others make their mark immediately. And then there's a third category, albums which sound quite appealing at first and then somehow grow stronger, embedding themselves into the consciousness without being listened to in the meantime. CéU's album, on being played again months after its arrival, is one such record that has mysteriously grown stronger while being unheard.
Son de Frontera
Looking back through the log of tracks played in this programme over the year, I'm shocked to see that I have twice played Son de Frontera, voted Best European Artist at this year's Radio 3 Awards for World Music. Time to make reparations.
Burkina Electric
Perhaps because it was particularly difficult to find, 'Mdolé' by Burkina Electric attracted several comments the first time I played it back in March, and since then has been made more widely available as a track on my compilation Beyond the Horizon. I'm not allowed to mention the album on air, but in the safety of my own website can point you in that direction if you still haven't tracked it down.