Seq - Artist - Song Title - Album - Country - Label - Cat no
1 - Buena Vista Social Club - Chan Chan - At Carnegie Hall - Cuba - World Circuit - WCS0801
2 - Sir Victor Uwaifo - Iye Oh Oh - Guitar-Boy Superstar - Nigeria - SoundWay - SNDWCD012
3 - Sjahin During - Otra Mundo [feat Arto Tuncboyaciyan] - Afro Anatolian Tales - Netherlands/ Turkey/ Armenia - Rein Music - RMP 8057
4 - Ahmet Aslan - Meso - Va u Waxt - Turkey - Kalan - CD 118
5 - Fatoumate Dembélé - Nanfoulé - N'naniba - Burkina Faso/ Switzerland - Djeli - 83141
6 - Debashish Bhattacharya - Sufi Bhaku - Calcutta Chronicles - India - Riverboat - TUGCD1049
--------------------------------------------------------------------
I pre-record these World Service programmes three-at-a-time, usually every third Wednesday, and this is the third from the session where the first was with Chiwoniso, live in the studio. Perhaps because I was anticipating that show, I forgot my usual practice of looking ahead to see what sporting events might be coming up, and therefore completely missed the chance to link into this year's Olympics.
Because over 200 countries are involved overall, the only meaningful approach would have been to hone in on certain events or clusters of events. Watching the track and field events over the past week, I have been delighted to see how many athletes from African countries managed to get through to later rounds – not only the customary Nigerian sprinters and Kenyan and Ethiopian middle and long distance runners, but a sprinter from Zimbabwe in the men's 200 metre final, a man from DR Congo and women from Botswana and Burkina Faso in earlier rounds. From the Caribbean, alongside the remarkable Jamaicans and Cubans were runners from St Kitts & Nevis, Dutch Antilles and Cayman Islands. How proud their countrymen feel, watching back home on TV. But although there are instances of accidental topicality in this programme, that was not how it was conceived. It's just another stream-of-consciousness zig-zag.
Carnegie Hall [photo: Don Perdue]
Following up the truly phenomenal success of the album by Buena Vista Social Club (over seven million copies sold worldwide), World Circuit Records is recycling much the same material in a live album, recorded ten years ago at Carnegie Hall on Manhattan, New York. The company generously paid for my flights and hotel to attend the concert, enabling me to watch the rehearsals in the afternoon (where I talked a bit with Ry Cooder but much more with his percussionist son Joachim, an often overlooked but important member of the group) before going to a cocktail party at Carnegie Hall in the early evening (where among those I shared brief conversations with were Ahmet Ertegun, founder of Atlantic but by then a Warner Records executive, Laurie Anderson and Lou Reed, and Nonesuch A&R man David Bither); then came the concert itself, and afterwards a dinner in an Indian restaurant at which I sat next to Ry Cooder. The night ended with a walk back to my hotel up Sixth Avenue in the company of Wim Wenders. And if this paragraph doesn't qualify for citation as the worst case of name dropping to be entered in the applicable thread in this forum, I give up. It's the best I can do.
The first surprise at the Carnegie Hall was its size. I had expected this famous venue to be as big as the Albert Hall, but while its 2,800 capacity is the same as the Royal Festival Hall, it felt smaller. Designed as an acoustic venue for classical music, it doesn't really need the electrical amplification that was being used, and many of the instruments in the Buena Vista ensemble sounded too loud. So although I enjoyed the overall event, I had heard the group sound better at Ronnie Scott's and even at the notorious Jazz Café in London. Benefiting from engineer Jerry Boys' remixing skills in the studio, the album sounds much better than my experience of the sound in the Hall at the time. The repertoire also includes songs from the solo albums of Ruben Gonzales and Ibrahim Ferrer, and to judge from the number of promo copies of the immortal 'Chan Chan' being sent out to all and sundry, it looks as if there is a determined attempt to land it in the single chart.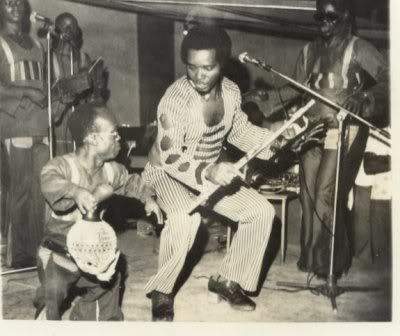 Sir Victor Uwaifo
Having always enjoyed the post-Highlife sounds of several Nigerian singers and bandleaders from the 1960s and '70s, I'm only slowly beginning to identify what made each of them unique. In the past month or so I've have been able to get a much clearer fix on Sir Victor Uwaifo (pronounced 'Oo-why-foe'), thanks to the release by SoundWay Records of the album Guitar Boy – Superstar, 1970- 1976. Since doing this programme, I have recorded one linked by telephone to Victor sitting in a studio in Lagos, so won't say any more now except to confirm what an important figure he was, as the man who brought electric guitar into an idiom which had previously been acoustic.
Sjahin During; Arto Tunboyaciyan
I'm still dealing with the many albums acquired on my recent visit to Istanbul, but coincidentally received Afro Anatolian Tales from a friend in Amsterdam. I had not run across the percussionist Sjahin During before but his MySpace profile fills in the blanks: "Born in Amsterdam in 1972, of a Turkish mother and a Dutch father, he grew up in Istanbul till the age of six. Then, his family moved back to the Netherlands, to a small island in the North Sea called Texel. Ever since he has been living permanently in the Netherlands, as a musician and founder/bandleader of Turqumstances.â€