posted on behalf of CG
broadcast UK: Sun 10.32 (BST) rpt 22.32, Mon 03.32
Seq - Artist - Song Title - Album - Country - Label - Cat no
1 - Mayra Andrade - Dimokransa - Navega - Cape Verde/France - Sterns - STCD1105
2 - Mayra Andrade - Mana - Live in session - Cape Verde/France - -
3 - Ersatzmusika - Beside Myself to You I came - Voice Letter - Russia - Asphalt Tango - CD-STR 1407
4 - Abyssinia Infinite - Monew Natana - Zion Roots - Ethiopia/USA - Network Medien - 24 971
5 - Mayra Andrade - Lua - Navega - Cape Verde/France - Sterns - STCD1105
In the years immediately following the adoption of the term 'world music', there were several major singers who, if not exactly household names, were well known outside their own countries: Miriam Makeba, Youssou N'Dour, Salif Keita, Ali Farka Touré, Nusrat Fateh Ali Khan, Cesaria Evora, Ladysmith Black Mambazo, Gilberto Gil and Caetano Veloso.
In the past fifteen there has not been a younger generation of comparable singers with the combination of charisma and talent to reach beyond the converted world music audience and attract the attention of others. Mariza, Souad Massi and Tinariwen, perhaps. Who else? Of all the candidates, Cape Verdean singer Mayra Andrade looks and sounds like the artist most likely to join them. As a first step, she has just been named Best Newcomer in the 2008 Awards for World Music.
Mayra with Mariza (photo Fernando Bento and Conceição Mata)
Having seen Mayra perform onstage with her guitar, I made an assumption that she would be happy to play two or three songs in a radio studio, but it turns out that she is confident playing only one, 'Mana'. As Mayra sat down, she pointed out that like most singers, she was more comfortable singing at night, rather than at 10.30 in the morning, especially after having performed the previous evening at the Barbican. But she soon relaxed and became the charming and quick-witted person she had appeared to be onstage.
photo Rui Pires
One thing needed to be cleared up – it was said that she was born in Cuba, but it was apparent that it would not be correct to describe her as being Cuban. No, it was for medical reasons that her mother went to give birth in Havana, but Mayra is a pure Cape Verdean, having lived there as both a child and a teenager.
I was impressed at the maturity of her album, how accomplished it feels, given that she was only 21 when she recorded it. By then, Mayra pointed out, she had been singing professionally for six years, having started singing onstage as a 15-year-old. Almost immediately, people had started encouraging her to make a record, but she had kept saying she was not ready, having neither the repertoire nor a musical approach of her own.
Only when she felt confident about both did she agree to do an album. She recorded it where she lives, in Paris, where she had to train the musicians into learning how to play in a Cape Verdean style, even though they were from elsewhere. Hence, an album that is distinctively Cape Verdean without sounding like any other.
I had hoped to play several other records by exiled musicians seeking to represent the music of their homeland, but we had time for only two: the Russian group based in Berlin who call themselves ErsatzMusika, and Gigi, the New York-based singer from Ethiopia.
ErsatzMusika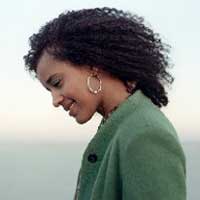 Gigi
CG
_________________________________________________
Full details will also be posted on the home page under the 'World of Music' lists with weblinks and sleeve images in a few days
http://tinyurl.com/6k4etn