Seq - Artist - Song Title - Album - Country - Label - Cat no
1 - Daby Balde - Halaname - Introducing Daby Balde - Senegal (Casamance) - Introducing - INTRO104CD
2 - Soha - C'est Bien Mieux Comme Ca - D'Ici et D'ailleurs - France - Virgin France - 099950 318124
3 - Noor Jehan - Tere Qadmon Main Bikhar Jane Ko - Volume 8: Old Urdu Songs - Pakistan - OSA - CDSR 3378
4 - Umalali - Barübana Yagien (Take Me Away) - The Garifuna Women's Project - Belize - Cumbancha - CMB-CD-6
5 - Dona Dumitru Siminica - De Trei Ani Nu Dau Pe Acasă - Sounds from a Bygone Age Vol 3 - Romania - Asphalt Tango - CD-ATR-1106
6 - The Sahara All Stars of Jos - Feso Jaiye - Nigeria Special: Modern Highlife, Afro Sounds and Nigerian Blues, 197-76 - Nigeria - Sound Way - SNDWCD009
7 - Pio Leyva - Comiendo y Cantado - Cuban Pearls Vol 2 - Cuba - Syllart - 6133122
Daby Balde
Most of the time, the BBC Radio 3 Awards for World Music are a good barometer of the best artists whose albums have been released in Europe and North America. But two years ago, I was disappointed when no recognition was accorded to the album Introducing Daby Balde by the singer-songwriter from Casamance (Southern Senegal). To my ears, it deserved a nomination in any one of three categories, African, Newcomer or Culture Crossing. I still find the album has the same thrilling effect as when I first heard it, and if it's true that too many songs are at roughly the same tempo, it's also true that all of them sound fine on the radio. I've never played 'Halaname' before, yet it feels as familiar as if it were a classic hit.
Soha
Because world music is such a vague concept, having no specific generic qualities to enable us to say, 'this is', 'that is not', each of us can have our own idea of what fits and doesn't fit, and nobody can argue. Well, they can argue, and they do. But there can be no absolute resolution. So, while in France the debut album by Soha will be marketed as a pop record, anywhere else she may be seen as a world music artist, and her album is currently in the EBU world music top twenty. Having previously been informed that he mother is a Nubian from Southern Egpyt, I've since read that Soha is of Sahraoui origin, from southern Algeria. Can anyone clarify?
This song by the late Pakistani film star and singer Noor Jehan was chosen partly as a reaction after spending half an hour listening to compilations of Indian soundtrack music, and finding everything sounded like corny pastiches of Western music. Whoever arranged the music for Noor Jehan was not sidetracked by mimicking Hollywood or Tin Pan Alley, and the singing is much less mannered.
Umalali: Sophia Blanco
After the tragic early death of Andy Palacio at the age of 47, just as his album Watina was finally bringing Garifuna music to attention outside his homeland of Belize, producer Ivan Duran has had to gather up his energies once more and introduce us to a parallel project he had been working on while putting together Watina, this one featuring female singers and called Umalali: The Garifuna Women's Project. The whole album is very strong, packed with haunting voices that seem to belong in another era. Track one is a slightly reworked version of 'Nibari' by Sophia Blanco, previewed on World 2006 and still sounding great, but I've gone with 'Barübana Yagien (Take Me Away)'.
Dona Dumitru Siminica.
Every time I play something from the series of Romanian classics, Sounds from a Bygone Age, emails come in asking for more. I've played this one before, but it deserves to be heard again – 'De Trei Ani Nu Dau Pe Acasă' by Dona Dumitru Siminica.
Earlier this year, when Justin Adams and Juldeh Camara were recording a session during my show on Radio 3, I played 'Feso Jaiye' by The Sahara All Stars of Jos, from a new compilation of Nigerian recordings from the early 1970s. As soon as it started, Juldeh's ears pricked up, and he began to play along with it, recognising the melody and rhythm as also belonging to a song from his own country, The Gambia. Everything joins up.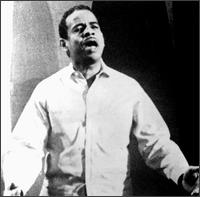 Pio Leyva
After releasing four marvellous compilations of African music in the series African Pearls, Ibrahim Sylla has launched a similar series of Cuban recordings. Having missed Vol 1, I've found several treasures on Vol 2, including this one by Pio Leyva from 1956.