Seq - Artist - Song Title - Album - Country - Label - Cat no
1 - Tito Paris - Otilia/Otilio - The Soul of Cape Verde - Cape Verde - Lusafrica - 08775-2
2 - Carla Alexander - Sambamuffin - Sambamuffin - Brazil/Denmark - April - APR074CD
3 - atahualpa yupanqui - Nada mas - Che Guevara - lucha por la vida - Argentina - Milan - 399 160-2
4 - Laïs - Leda en de Zwaan - The Ladies' Second Song - Belgium - Bang - BC0561
5 - Burhan Öçal & The Trakya All Stars - Opaz [feat Burcu Bas] * - Trakya Dance Party - Turkey - Doublemoon - DM 0038
6 - Mbilia Bel - Kehlia - Bel Canto - Congo - Sterns - STCD3037
-------------------------------------------------------------
Tito Paris
Where Cesaria Evora led with her breakthrough album in 1989, many have followed, and now the rhythms and melodies of the Cape Verde Islands are amongst the most recognisable sounds of the world. Tito Paris has been a popular band leader in his own Lisbon club for many years, and has recently reached an international audience as featured guest in the show of Lisbon Fado singer, Mariza. 'Otilia/Otilio', a staple of Tito's repertoire, was included in The Soul of Cape Verde (1996), but has mysteriously been left off the new double-CD book-shaped package, The Soul and Spirit of Cape Verde, that brings together two most of two previously released CDs on the Lusafrica label, which has been at the forefront of bringing the Islands' music to the world's attention.
Carla Alexander
Brazilian singer Carla Alexander recorded the self-explanatory 'Sambamuffin', a hybrid of Brazilian samba and Jamaican raggamufffin, in Denmark, where there a well-organised infrastructure supports world music initiatives involving combinations of indigenous and newly-arrived musicians.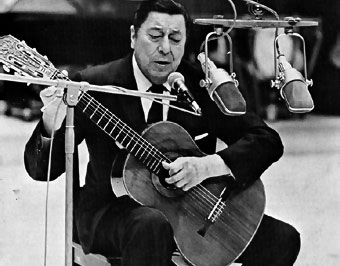 Atahualpa Yupanqui
A compilation of songs intended to represent the revolutionary spirit of Che Guevera seemed all too calculating, but justifies its existence by including the music of the legendary but rarely heard Atahualpa Yupanqui. The exotic name was made up by Argentinean singer Héctor Roberto Chavero Haram to draw attention to the cultural heritage of the people who were in South America before the Europeans arrived to give the continent its name and divide its land up between them. Feted as much in Europe as back home, where the singer was ostracised by the government while he retained membership of the Communist Party, Atahualpa Yupanqui has remained a revered figure throughout Latin America since he died in 1992 at the age of 84.
Laïs
Laïs comprises three female singers from the Flemish part of Belgium, whose unique folk-meets-pop sound works very effectively 'Leda en de Zwaan'. When it finishes, you want to go back to remind yourself how it started.
Burhan Öçal & The Trakya All Stars
When people ask, who is going to be big in 2008, I dodge the question by predicting that the music of Turkey seems to be getting stronger each year, with two labels in particular releasing one powerful record after another, Doublemoon and Kalan. I'm a bit slow in catching up with Doublemoon's album Trakya Dance Party by Burhan Öçal & The Trakya All Stars but am hooked on 'Opaz', featuring fourteen-year-old girl singer Burcu Baş.
[photo by Philip Ryalls]
When I played 'Eswi Yo Wapi' by the Congolese vocalist Mbilia Bel a few weeks ago, her career retrospective album Bel Canto had not yet been released. Now it's out, and there's a temptation to play the same song again, but 'Kehlia' from the same period (1983) is almost as good. They both feature the magnificent band of Tabu Ley Rochereau at its peak, featuring fluid guitar by Dino Vangu and the unique horn arrangements of sax man Modero. I think it's the same song that launched Tabu Ley's career back in 1959, when it was spelled 'Kelya'.