hSeq - Artist - Song Title - Album - Country - Label - Cat no
1 - Rodolfo y su Tipica RA7 - La Colegiala - Cumbia Cumbia - Colombia - World Circuit - WC 016
2 - El Tío Carlos - Pares y Nones - Groove & Soniquete - Spain - Vania - promo
3 - Jali Fily Cissokho - Umbalafeyle Tetambulo - Doumajoulo - Senegal - Kaira Arts - KA1002CD
4 - Fiona Soe Paing - tamin sah pahade - No Man's Land - UK/Mayanmar - Mexonerecordings - 2005
5 - Nusrat Fateh Ali Khan - Allah Hoo Allah Hoo - Very Best of Nusrat Fateh Ali Khan - Pakistan - Manteca - MANTDBL511
--------------------------------------------
Last month, Joe Boyd presented his all-time world top 40 in two programmes on BBC Radio 3 *.
Not knowing what his criteria might be, I jumped the gun and made my own list **. By limiting my selection to one artist per country, I pulled myself away from the otherwise irresistible lure of West Africa and recalled the excitement of hearing the Cumbia music of Colombia for the first time in the 1980s. Here was another rhythm to set alongside ska and reggae and all the many newly discovered dance musics from Africa.
Rodolfo
It's a bit arbitrary to choose just one song from all the contenders with a Cumbian beat, but 'La Colegiala' by Rodolfo y Su Tipica RA7 had additional impact by being used in an ad for a new brand of Nescafe. I never did like powered coffee, but the pictures of a steam train coming round the mountain bends will forever be conjured by the opening bars of this song about a schoolgirl.
El Tio Carlos
In addition to all the released albums that come through the door, quite a few pre-release CD-Rs are sent, tasters of what will follow in a few months' time. It's difficult to decide what to do with them. Set them aside, and they're liable to disappear at the bottom of the pile that gets bigger every day. But if I play them and find something good, it's hard to resist putting them out on the radio straight away. I haven't been sent the released version of the debut album by El Tio Carlos (Uncle Charlie), but have included 'Pares y Sones' on the understanding that the finished album does actually exist. Contact them via
www.myspace.com/eltiocarlos
For every album released by a third party record label, another comes out on an artist's do-it-yourself imprint. In this digital age, the distinction means less and less. You can download the tracks, or you can order the CD itself online. What's missing is a third ear, an objective voice to say this track is too long, that song is not strong enough or you need a better singer. So I approach such CDs with a mixture of good will and suspicion, hoping to like them but not expecting to. But two such albums were sent in response to my requests, after hearing tasters on the artists' MySpace profiles, so I already knew in advance that at least one track would be good.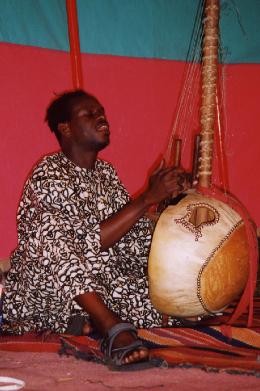 Jali Fily Cissokho
Doumajoulo by UK-based kora player Jali Fily Cissokho passes all the tests, full of distinctive songs that are well-played and well-sung.
Fiona Soe Paing
No Man's Land by the UK-based Burmese singer Fiona Soe Paing is more uneven, but having played 'tamin sah pahade' from the unavailable CD-R (and subsequently including it on the compilation Sound of the World), I promised Fiona I'd come back to the album when she actually released it. Unfortunately, the spur to do so was the recent confrontation between Myanmar's repressive military government and Monks protesting about its policies. Listening again, I came back to my first conclusion - 'tamin sah pahade', the only song based on a traditional Burmese melody, is much the strongest. Hopefully Fiona will follow that concept f or a whole album next time. By the way, as Burma has officially renamed itself Myanmar, how come the British media still refers to it as Burma?
Nusrat Fateh Ali Khan
It is widely acknowledged that the Pakistani qawaali singer Nusrat Fateh Ali Khan was one of the great vocalists of the Twentieth Century. Usually, compilers of albums claiming to be the best of Nusrat Fateh Ali Khan restrict themselves to his shortest recordings, or edited versions of his long ones. But Manteca has released a double CD of tracks that are each longer than 20 minutes. To have played one in its entirety could have used up a whole programme, so I've cut to the chase on 'Allah Hoo Allah Hoo,' starting about six minutes in, just as the singers reach the chorus for the first time. Although he is always referred to as if he were a solo singer, Nusrat was actually the leader of a vocal ensemble, and part of the pleasure in his performance was the interplay between his voice, that of his much younger second singer, and the assembled voices of his percussionists.
[* Joe's choices are listed under 'other radio' in the forum at
www.soundoftheworld.com
.]
[** presented in the same forum, under 'Best of Everything'].