Seq - Artist - Song Title - Album - Country - Label - Cat no
1 - Manu Chao - La Vida Tombola - La Radiolina - France/Spain - Because - promo
2 - Fufü-ai - Cha Cha - Mariatchi Boogie - Spain - estofonia riera - UMA10253844F08
3 - Jorge Drexler - Disneylandia - 12 Secundos de Oscuridad - Uruguay - Warner Uruguay - 25646 3828-2
4 - Yasmin Levy - Si Veriash - Mano Suave - Israel - World Village - 450003
5 - Almasäla - Els Nens Sense Memoria - Eolh - Spain - Ventilador - CDA0532
6 - Yerba Buena - El Burrito - Follow Me - USA/Venezuela - Wrasse - WRASS 194
7 - Mercedes Peón - Son Carencias - Şihá - Spain - Galego/Discmedi - DM 4325 -02
--------------------------------------------------------------
I've covered my bets with this title, the Languages of Spain, thereby embracing any songs that might be in Catalan, Galician, Basque and/or Ladino.
Manu Chao [photo: photos.signonsandiego.com]
Manu Chao continues to divide current opinion, depending on whether people judge him by the fast songs that dominate his live show and the beginning of his album, or by the more tuneful songs that emerge in the second half. I'm happy to skip the rockier songs and have found as many as eight tunes to play on the radio one-by-one, this week featuring 'La Vida Tombola', his celebration of the Argentinean footballer, Maradonna.
Fufü-ai
It sometimes seems that there must be three or four Manu Chaos, one of whom produces albums by other artists in Mali and Argentinia, a second who lives in Paris, and a third who hangs out at the Club Mariatchi in Barcelona, where local bands play every night and where Manu himself sometimes jumps on stage to join in. Last time I was in the city, I stopped to listen to a group of street buskers and bought the album they had on sale, Mariatchi Boogie. Manu has a track of his own on it and produced all the others, including 'Cha Cha' by Fufü-ai.
Jorge Drexler
'Disneylandia' by the Uruguayan Jorge Drexler is based on a tune by the Brazilian, Arnaldo Antunes, that I've never heard in its original shape. Anybody know it?
Yasmin Levy
Yasmin Levy sings most of her new album Mano Suave in Ladino, the adaptation of Spanish spoken by descendants of Jews exiled from Spain the Middle Ages. 'Si Veriash' is the only faster song on an album that would have benefited by having one or two other quicker tracks to contrast with the majority of slow laments.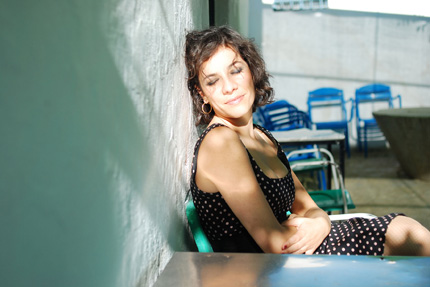 Almasäla
The album Eolh by Almasäla sat unheard on the floor for several months, a typical victim of an unappealing cover design. The singer was part of an early line-up of Ojos de Brujo before going off to make this, her debut solo album. Uneven (a euphemism for not very good), the album includes this one outstanding song, which I'll almost certainly pursue when compiling next year's round-up of the year's best tracks.
Yerba Buena
Follow Me by Yerba Buena is another up-and-down album which promises much but finally delivers just this one winner, the Cumbia-flavoured 'El Burrito'.
Mercedes Peón
I haven't spent enough time with Şihá by Mercedes Peón to judge its overall consistency. Having found this song to play, I set it aside to deal with the rest of the pile. Mercedes was part of the local rock scene in Galicia before she started exploring the region's musical roots. Glimpses of her rocky past poke through most of what she does, but 'Son Carencias' is humorous, melodic and memorable.
Listen for seven days at BBC World Service online, linked from menu tab on homepage here:
www.soundoftheworld.com