Seq - Artist - Song Title - Album - Country - Label - Cat no
1 - Kebendo Jazz - Soumba - Authenticité - Guinea Conakry - Sterns Africa - STCD3025
2 - Johnny Pacheco - Caramelo - El Maestro - USA/ Dominican Republic - Fania - 773 130 075-2
3 - Glykeria - Ta Dahtilida - Rebetika Songs - Greece - Eros - 01752A
4 - Juju Duatre - Foi Agora Que Eu Chegei - Da Rua Dos Ossos - Brazil - Art Hurts - ART HURTS 09
5 - Bratsch feat Lhasa - Nié Bouditié - Plein du Monde - France/Canada - EMI - 0946 387 0102-6
6 - 17 Hippies - Deine Tränen - Heimlich - Germany - Hipster - HIP 012 LTD
7 - Selim Sesler - Meşl Havasi - Anatolian Wedding - Turkey - Doublemoon - DM 0036
---------------------------------------------------
At the moment of starting to write these bulletins, I usually manage to discern threads that link at least some of the tracks in each programme. But after a thin connection between the first two, I have to admit that the songs have little in common beyond being recent arrivals in the mail.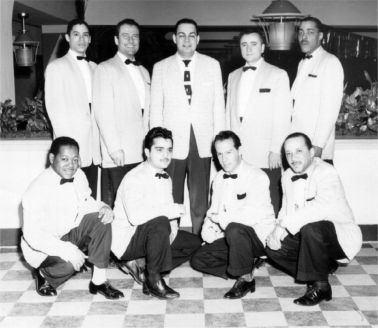 Johnny Pacheco Orchestra
Kebendo Jazz is another previously uncelebrated group discovered on the enjoyable double album, Authenticité, drawn from the vaults of Sylipohone Records in Guinea Conakry. Its hints of a Latin American rhythm provide a pretext for following on with 'Caramelo' by Johnny Pacheco, one of the most famous of the New York-based band-leaders from the Spanish-speaking Caribbean whose music was so popular in West and Central Africa during the 1960s and '70s. He recorded for the Fania label, whose catalogue is being relaunched in a big campaign featuring both various artist compilations and individual artist anthologies like this one, Johnny Pacheco: El Maestro.
Glykeria
There are several contemporary popular Greek singers who retain connections to old forms of Greek music, but Glykeria is unusual in recording whole albums celebrating such roots. 'Ta Dahtilida' is from her album of Rebetika songs, the controversial genre whose topics of drinking and promiscuity made it unplayable on the radio back in the 1920s and '30s.
Ju Ju Duarte
Juju Duarte is from the same generation as several of Brazil's most famous singers from the Bahia region. But unlike Gilberto Gil and Caetano Veloso, Juju never became well known, singing in the streets of Rio and Salvador but not recording until now, as he releases his debut album Da Rua Dos Ossos (From the Street of Bones) at the age of 65.
Bratsch (oleft) and Lhasa
Bratsch is a French Gypsy music group whose new album features several international collaborations including this one with Canadian vocalist Lhasa. It's good to welcome back her deep, distinctive voice on 'Nié Bouditié'.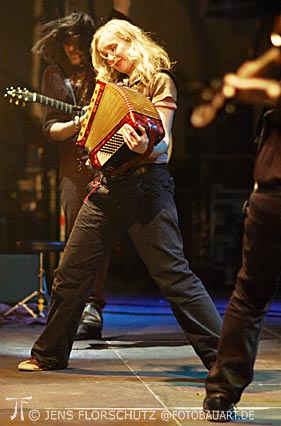 17 Hippies [phot Jens Florschutz @ fotobauarte.de]
Every time we play 17 Hippies, the emails come in – how do we get the album? Try the band's own website
www.17hipppes.de
or, if you live in the UK, tell your local shop that the distributor is Discovery.
Selim Sesler
Selim Sesler is one of the most famous clarinet players in Turkey, where the instrument is favoured above the saxophone or trumpet as the leading voice of dance bands. The ace British team of producer Ben Mandelson and engineer Rob Keyloch have turned their hands to making an album designed to bring Selim to the attention of the rest of the world, and it's already succeeding.