Seq - Artist - Song Title - Album - Country - Label - Cat no
1 - Almasala - Els Nens Sense Memoria - Eolh - Spain - Ventilador - CDA0532
2 - Axel Krygier - Dónde estarás hermanitta - Zorgal - Argentina - Hitop - HITOP030CD
3 - Kobo Town - Abatina - Independence - Canada/Trinidad - Kobotown - KOBO 001
4 - Balkan Beat Box - Habibi Min Zaman (feat Dunia) - Nu Med - USA/Syria/Israel - Crammed Discs - CRAW 38P
5 - Eugenio Bennato - Donna Eleonora - Da Iontano - Italy - L'Empreinte Digitale - ED13174
6 - Clejani Express - Vraja - A Devla - Romania - Network Medien - 495117
--------------------------------------------------------------------
These programmes have a habit of defining themselves after the event, revealing common elements only as they go out to the world. This one retrospectively filed itself under 'Experimental.'
Almasala
The Barcelona-based singer Almasala was involved with Ojos de Brujo in their early days, but as it became clear that there was room for only one female lead singer, Marina stayed and Almasala left. Her debut album Eolh is uneven, but 'Els Nense Sense Memoria' is so good, it may get played again, depending on how, or even if, you react.
Axel Krygier, left
Multi-talented musician Axel Krygier has such an impressive army of supporters, including David Byrne, La Linea promoter Andy Wood and fellow Argentineans Juan Molina and Kevin Johansen, I've felt bad about not being to hear what they could hear on his first two albums. But on his third, Zorgal, the witty and 'Dónde estarás hermanitta' probably represents what everybody else likes about him, while having a shape I can connect to. Kevin J is on the chorus.
Kobo Town
Kobo Town is the Toronto-based project of Trinidadian Drew Gonsalves, whose album Independence has a song that feels like a standard, 'Abatina'. So catchy, it feels like we've heard it before.
Balkan Beat Box is the disguise for two Israeli musicians based in New York, where a Balkan music scene is finally poking its head above the surface after more than ten years of near-invisibility in underground clubs. Nu Med, the project's second album, has come in for heavy criticism from contributors to the forum at
www.soundoftheworld.com
but I stand my ground in its defence, especially the ridiculously catchy 'Habibi Min Zaman', featuring Syrian vocalist Dunia.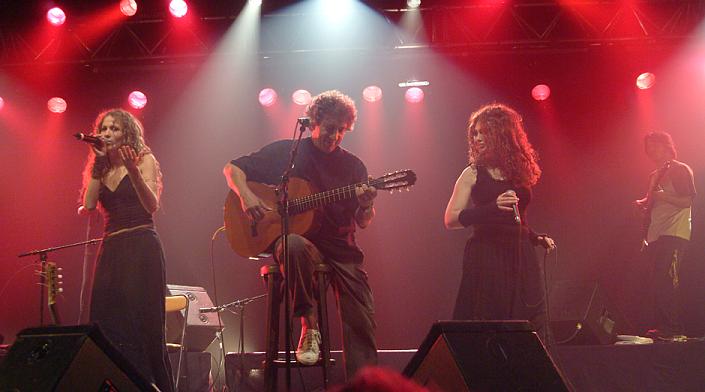 Having been an ardent supporter of Eugenio Bennato's 'Che Il Mediterraneo Sia' back in 2002-03, I hadn't realised that he released a follow-up, Da Iontano, in 2005 on L'Empreinte Digitale. Harmonia Mundi has just taken on UK distribution, enabling me belatedly to catch up. A new version of his celebration of the music of the Mediterranean doesn't improve on the original, but I'm glad to discover 'Donna Eleonara'.
Songlines Magazine tends to be kind to most new releases but gave a definite thumbs down to the album A Devla by the Romanian Gypsy group, Clejani Express, featuring Viorica & Ionitsa. It's a hybrid of a female vocal, vocal choir and the distinctive Gypsy instruments of clarinet, tuba, cymbalom and fiddles, which is brave or pretentious, depending on your tastes. For me, it works well on 'Vraja'.