Seq - Artist - Song Title - Album - Country - Label - Cat no
1 - Telmary - Marilu - A Diario - Cuba - DM Ahora - WLDM0003
2 - Timbuktu - Karmakontot - OberoendeFramkallande - Sweden - JuJu - JujuCD058
3 - Up Bustle & Out - Yol Türküsü - Istanbul's Secrets - UK/Turkey - UpBustle&Out - promo
4 - Bole2Harlem - Enseralen Gojo - Bole2Harlem Vol 1 - USA/Ethiopia - World Connection - WC 64002
5 - Fiona Soe Paing - tamin sah pahade - No Man's Land - UK/Myanmaar - Mexonerecordings - 2005
6 - M'Barka Ben Taleb - Amra - Altocalore - Tunis/Italy - Marocco Music - MARM 006
7 - 17 Hippies - Wann war Das? - Heimlich - Germany - Hipster - HIP 012 LTD
------------------------------------------------------------------
Everybody's on MySpace, from Madonna and Patti Smith to Telmary and Timbukutu. Even I've got a profile,
www.myspace.com.djjackdaw
The way it works: you open your own profile, which anybody can do, you don't have to be a musician or singer, there are millions of fans out there. If you are an artist, you get to put up four pieces of music; the rest of us get to choose just one, by somebody whose music we like. You put pictures of yourself, videos if you have any, and list the books, films and TV shows you like. Then you go and search for people who might have a profile and ask them to be your friend; normally they will agree. Gradually, you'll find yourself borrowing friends from your friends and building up a network of people of like minds.
All the artists in this week's show are friends on my profile, some of them actually discovered as friends of friends (Fiona Soe Paing and M'Barka Ben Taleb), others recommended by friends of the old fashioned, non-MySpace variety (Timbuktu, Bole2Harlem), one pointed out by a contributor to the forum at
www.soundoftheworld.com
(Telmary) and two that I have known for some time (Up Bustle & Out, 17 Hippies).
Telmary is a female Cuban singer who was part of the Free Hole Negro collective. She has a great tone and a versatile range. I bought her album on a Japanese label through Amazon, but it's coming out in the UK on DM Ahora, the label founded by Juan de Marcos Gonzalez, formerly the tres player in Sierra Maestra and The Afro-Cuban All-Stars, and the catalyst for The Buena Vista Social Club.
Timbuktu is a Swedish rapper who does actually rap in Swedish. He started his own Ju Ju label in 1999, and has hit radio and TV with this novel approach. KarmaKontot is one of those catchy songs whose chorus feels so familiar, you think you must have heard it somewhere before. Only in your dreams. Thanks to DJ Aicha for the tip.
Up Bustle & Out is the many-faceted project led by Senor Rudy in Bristol in the West of England. Having made records since the mid-1990s reflecting his passion for Cuban and Jamaican music, Rudy's exploring Europe now, and Istanbul's Secrets features singers from Spain and the Balkans but most tracks showcase the Turkish singer, Sevval Sam, including 'Yol Türküsü'.
Collage of Bole2Harlem by RockpaperScissors
Nina Roberts, a journalist in New York, tipped me to Bole2Harlem, whose name links the Bole airport in Addis Ababa where several band members took the flight that led 2 their current base in Harlem. Their self-released album is being picked up for European release by World Connection.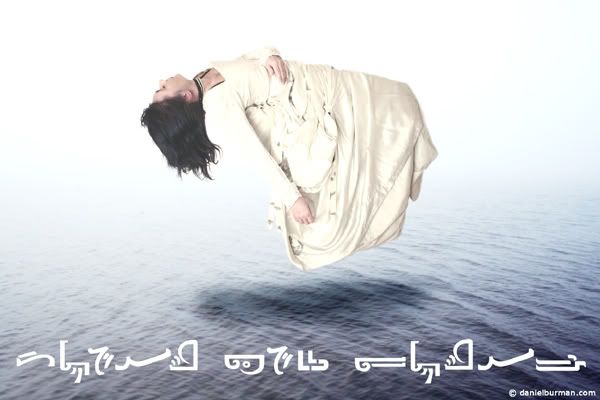 I've forgotten whose profile it was where I found Fiona Soe Paing, probably the London DJ Nick Luscombe's. Fiona's skeletal electronica works so well with her voice. She's the first singer from Myanmaar (formerly known as Burma) that I have played on the radio.
M'Barka Ben Taleb's face smiled out from the profile of Syrian qanun player Abdullah Chhaddeh. It turns out that M'Barka was one of the three singers who made such a strong impression when they were part of Eugenio Bennato's Naples-based group who played the Union Chapel in September 2003. Originally from Tunis, but still based in Italy, M'Barka has just recorded her first solo album.
17 Hippies are ridiculously underrated. They should be in the front rank of European world music artists, but for some reason have never attracted the attention of those who matter. Maybe this new album will make the difference. Sung as usual in French, German and English, the songs are irresistible, whether slow and sultry and sung by Kika, or lively singalongs with accordion, sung by Chris. Potential live promoters should not be perturbed by that name – there are never 17 musicians involved at the same time – six or seven is the usual quorum.