Seq - Artist - Song Title - Album - Country - Label - Cat no
1 - Abida Parveen - Ae Mehndi Jhoole Laal Dee - Ishq Qalander (Vol 12) - Pakistan - Oriental Star - CDSR 5420
2 - FreshlyGround - Zithande - Nomvula - South Africa - Freeground - CDINS007
3 - Freddie McGregor - Joggin' - Nova 25 Ans - Jamaica - Wagram - WAG 837
4 - Wai - Nga Hau E Wha - 100% - New Zealand - Jayrec - CDJAY361
5 - David Lowe's Dreamcatcher - Sadhu [feat: Benjamin Zephaniah] - What…is in Between? - England - Oval - OVLCD 601
6 - Harini & Chorus - Megham Karukkuthu - Kushi - India - Alai Osei - ALCD 1640
--------------------------------------------------------------------------
There's always a slight danger in preparing a show whose actual broadcast will coincide with an event that is a month away at the time of pre-recording it. But when I chose the records for this programme to tie in with the early stages of the Super Eights section of the Cricket World Cup taking place in the Caribbean, it seemed reasonable to assume that the teams from both Pakistan and India would have survived the earlier elimination round. Not only have both already returned home, displaced by the so-called minnows from Ireland and Bangladesh, but the event has made the front pages after Pakistan's manager Bob Woolmer was found murdered in his hotel bedroom in Kingston, Jamaica. My commentary may sound a bit naïve, as it focuses on the music and makes no reference to any of the above.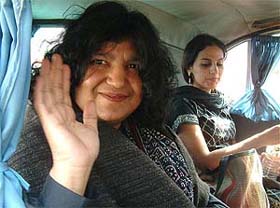 photo of Abida Parveen from Tribune of India
I was never likely to include anything from Australia, favourites to win the tournament but still a bit of a musical desert from my point-of-view. Instead, we start with a song I've played before, by Pakistani vocalist Abida Parveen, a rare female among the many male Qawalli singers and for me the best of them all.
I listened again to the album from FreshlyGround and wound up playing the same catchy track as before.
Freddie McGregor never enjoyed quite the same kudos among critics as Gregory Isaacs or the late Dennis Brown, but has probably been more consistent than either of them. These are the guys who took on the mantle of the world's great soul singers after Marvin died and Al Green found God, but were never marketed as such in the United States, where their inferior Jamaican successors now regularly make the top of the charts. Somebody should do a Best of Freddie and TV-advertise it. His songs are inexplicably familiar considering how little airplay they received at the time. I particularly liked the chorus of 'Joggin'' with its references to various sports firms.
photos of Wai by Philip Ryalls
We're still waiting for Wai to deliver the follow-up to their ground-breaking debut, 100%, released in 2000. The longer they leave it, the greater the challenge to match its achievements – fitting traditional Maori vocals over ultra-modern rhythm tracks.
photo by Philip Ryalls
There is a taboo on BBC radio presenters playing records they are professionally involved in, unless it can be editorially justified. What..is in Between? By David Lowe's Dreamcatcher is the latest album on my Oval label. David is English, Benjamin Zephaniah's family is from Jamaica, and their song 'Sadhu' is about India so it met the criteria on three counts.
Is this the right Harini?
From India itself, Harini & Chorus finish the programme with one of the most popular songs with listeners to A World of Music.