Seq - Artist - Song Title - Album - Country - Label - Cat no
1 - Ainars Mielavs - Zem emociju saules - Dzivais Porcelanos - Latvia - UPE - CD 050
2 - Oki Dub Ainu Band - East of Kanashiri - Oki Dub Ainu Band - Japan - Tonkori - CKR0112
3 - Ouza Diallo - Nobel - African pearls 4: Senegal - Senegal - Syllart - 6131572
4 - Renato Mondele - Reviens a Moi - La Rumba Congolaise - Congo - Dagelfish - 2006
5 - Gustafi - Kakova je to tmina - F.F. - Croatia - Dancing Bear /Warner - DBCD126
6 - Sher Miandad Faridi - Karda Sub Naal Pyaar Ni - Data Tere Te Aa Gaye - Pakistan - OSA - CDSR 3429
--------------------------------------------------------------------------------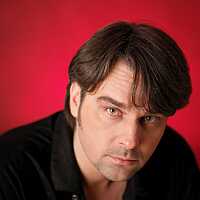 A friend described walking through Riga in the company of Ainars Meilavs, with every second person taking a sideways look at the man who was once lead singer of Latvia's most popular rock group, Jauns Mēness. He said it was like how he imagined it would be if you went through the centre of Dublin with Bono. Ainars left the band long ago and now runs his own record label UPE which mainly documents the fast disappearing heritage of traditional Latvian songs, performed by singers in their seventies or even older; but every now and then he releases a modern-sounding album of his own.
I still treasure the memory of the performance by the Japanese group, Oki Dub Ainu Band at WOMAD Reading in 2005, a unique mixture of dub reggae and T Rex. East of Kanashiri is from their new album, whose title seems very similar to that of their first. Sort it out if you can.
The African Pearls series, which started with the fantastic double CD of Congolese classics from the 1950's and 60's, is completed with Volume 4 dedicated to Senegal. CD1 is mostly traditional and tough going, but CD2 has several great tracks by bands with horn sections and electric guitarists, including Nobel by Ouza Diallo. He used to be billed as Ouza et ses Ouzettes. Beat that for a name. Lovely guitar.
Guitar is the thread that leads into the track from the new, yet-to-be released album by Renato Mondele, a Congolese singer and guitarist based in London. Thanks to Wallee McDonald, promoter of gigs at St Etheleburg's in London, for alerting me to Renato.
Gustafi is a new name to me, a Croatian singer whose band sounds Mexican one minute, Balkan gypsy the next. It all hangs together around Gustafi's rough voice, surely inspired by Manu Chao.
Finally, another powerful singer from Pakistan, Sher Miandad Faridi.