2010 - week 15, from 10 April – World Music Hits 8 (rpt)
Posted:
Sun Apr 11, 2010 10:53 pm
Listen again on BBC World Service via
http://www.bbc.co.uk/iplayer/console/p006zvp9
from 10 April 2010 11.30pm for 7 days
Seq - Artist - Song Title - Album - Country - Label - Cat no - Website
1 - Bert Kaempfert - A Swingin' Safari - Instrumental Memories are Made of This - Germany - EMI - VTDCD 629 –
http://tinyurl.com/dhvjkw
2 - Chavela Vargas - Macorina - Grandes Exitos - Mexico - Orfeon - JCD 13848 –
http://tinyurl.com/cpjmq4
3 - Wilmoth Houdini - Black But Sweet - Poor But Ambitious - Trinidad - Arhoolie - Cd 7010 –
http://www.youtube.com/watch?v=LuVt2Qq6-ro
4 - Perez Prado - Cherry Pink & Apple Blossom White - Our Man in Havana - Cuba - Camden - 74321 588102 –
http://tinyurl.com/yv2xl2
5 - Elias & his Zig Zag Jive Flutes - Tom Hark - Instrumental Memories are Made of This - South Africa - EMI - VTDCD 629 –
http://www.youtube.com/watch?v=zKz5kpqctV0
6 - Bhundu Boys - Hatisi Tose - The Shed Sessions - Zimbabwe - Sadza - Sadza 1 –
http://tinyurl.com/cxc6kq
7 - Jean-Baptise Nemours - Ti Marie Cherie - Musical Tour of Haiti - Haiti - Ansonia - HGCD-1280 –
http://tinyurl.com/d7yzs9
8 - Sergio Mendes - Magalenha - Brasiliero - Brazil - Elektra - 7559 61315-2 –
http://tinyurl.com/bzm3ou
--------------------------------------------------------------
Originally broadcast in March 2009 see
viewtopic.php?f=42&t=10453
and
http://www.charliegillett.com/playlistn ... =28March09
Charlie's original bulletin:
One of the arguments against using the term world music is that it has somehow discouraged mainstream radio from ever playing anything that could possibly be categorised (and therefore dismissed) because it qualifies for the description. This week's programme includes several songs from the period before the term was coined, that were big hits regardless of their ethnic origins.
Bert Kaempfert
Given how familiar it sounds, it's a surprise to discover that 'A Swingin' Safari' by Bert Kaempfert was never actually a hit. His South African-flavoured tune became well-known through being used as the theme music for an American TV show, inspiring band-leader Billy Vaughn to record a cover version which actually did make the charts. Until researching this show, I had not realised what a successful songwriter Kaempfert was – based in Germany, he had worldwide hits with 'Wonderland at Night', 'Strangers in the Night', 'Spanish Eyes', 'Wooden Heart' and 'Tenderly', and his arrangements provided the template for the sound of Herb Alpert and the Tijuana Brass.
Chavela Vargas
Chavela Vargas is revered throughout Mexico, where she was hugely popular during the 1960s, but she may be best known in the world music era as a major inspiration to both Lila Downs and Lhasa, both of whom have recorded versions of 'Macorina'.
Wilmoth Houdini
Wilmoth Houdini just might be the very best of all those clever and witty songwriters who recorded calypso music in Trinidad in the 1920s and '30s. He has resurfaced in my consciousness because the Australian singer CW Stoneking's second album Jungle Blues is inspired by the sound and arrangements of Houdini's songs. Thanks to Mark Lamarr for supplying a copy of his album Poor But Ambitious.
Perez Prado
As a teenager, I was never very clear whether the popular mambo style derived from Cuba or Mexico. Part of the confusion may have been due to the fact that the biggest mambo star of the day, Perez Prado, was a Cuban based in Mexico. Perez Prado had several huge hits during the 1950s, including 'Patricia' and this reworking of a French tune, 'Cherry Pink and Apple Blossom White'.
Elias & Hs Zig Zag Jive Flutes
Back in the days before videos, records regularly made the British charts based entirely on their sound. We didn't know what the singers or musicians looked like and may not have cared. We were told that Elias & Hs Zig Zag Jive Flutes were from South Africa and that they called their music kwela. Was this tune the inspiration for Bert Kaempfert's 'A Swingin' Safari'?
Bhundu Boys
For almost forty years, BBC Radio One's DJ John Peel based his selection of what to play on with no regard as to whether the records might be commercial, and he may have sometimes been surprised at which of his choices hit the charts before the rest of radio knew what was happening. But while Peel can be credited or blamed (depending on your point of view) for the success of the Manchester group, The Smiths, he may have been disappointed that his equally ardent support did not result in such conspicuous success for the Bhundu Boys of Zimbabwe. The band did everything they could to manifest his faith, coming over to do relentless tours of the UK, and for a while became household names in a select category of households, particularly after a second Radio One DJ, Andy Kershaw, joined the fray to fan the flames. Tragically, several of the group subsequently died from AIDS, and lead singer Biggie Tembo committed suicide after being dropped from the group.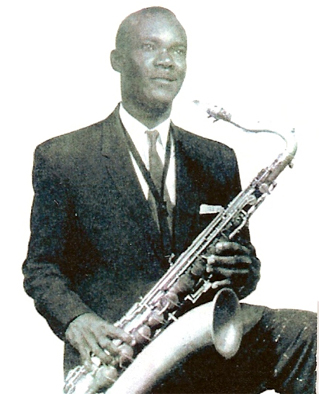 Jean-Baptiste Nemours
I don't think I ever heard music from Haiti during the 1950s and only caught up with Jean-Baptiste Nemours, the island's biggest bandleader from that period, many years later. Yet there's a powerful nostalgic recognition whenever I listen to the fluid arrangements of his melodic horn section.
Sergio Mendes
The final track by Sergio Mendes is an anachronism from a later period – sometimes, the logic of my selections defies my own understanding only a few weeks later. But the track itself sounds as great as ever.
CG