Part Three of Charlie's exploration of World Music hits; songs that came to a wider audience than one might expect for world music. From the early '90s comes a Spanish/Moroccan hybrid which became known as Radio Tarifa, there's a Senegalese track from Wasis Diop's album of 1996. Neapolitan music reimagined with a north African influence, Cape Verdean music from Cesaria Evora, one of Charlie's top world albums from the past 20 years, band leader Franco from Congo and Fela Kuti the man who created Afrobeat all appear and delight.
Listen again via http://www.bbc.co.uk/iplayer/console/p006frbb from 6 March 2010 11.30pm for 7 days
posted on behalf of CG
Seq - Artist - Song Title - Album - Country - Label - Cat no - Website
1 - Wasis Diop - No Sant (feat Lena Fiagbe) - Everything is Never Quite Enough - Senegal/UK - Wrasse - WRASS 108 -
http://tinyurl.com/3yfk8d
2 - Radio Tarifa - Rumba Argelina - Rumba Argelina - Spain - World Circuit - WCD 042 -
http://tinyurl.com/5fj7ll
3 - Pietra Montecorvino - Guaglione - Napoli Mediterranea - Italy - l'empreinte digitale - ED13172 -
http://tinyurl.com/5tgqxc
4 - Cesaria Evora - Sodade - Miss Perfumado - Cape Verde - Lusafrica - 79540-2 -
http://tinyurl.com/6rmah6
5 - Franco's OK Jazz - Tailleur - The Rough Guide to Franco - DR Congo - World Music Network - RGNET 1071 CD -
http://tinyurl.com/6qf6zh
6 - Fela Kuti - Sorrow Tears & Blood - Opposite People - Nigeria - Wrasse - WRASS 075 -
http://tinyurl.com/5avyho
This is Charlie's bulletin from the original show
http://www.charliegillett.com/playlistn ... te=18May08
viewtopic.php?f=42&t=7454
The third in our series featuring milestone records from around the world, for which there are no consistent criteria for qualification. The first three of this week's selections are personal choices: songs which became part of my life for a while and which carry connotations far beyond being enjoyable records.
I was given my first weekly radio show as long ago as 1972 and have kept going almost continually ever since, but there was a period when I was off the air from 1990 until half way through 1995. Given a two hour slot on Saturday Night on BBC London, I was encouraged to do whatever I liked. So I looked for ways to connect songs in English with those in other languages, to treat them as if they belong together. Two of the first albums I played a lot during those early Saturday Night shows were No Sant by Wasis Diop and Rumba Argelina by Radio Tarifa.
Wasis Diop
No Sant was given to me by Jumbo Vanrenen, the A&R man at Mango, an off-shoot of Island formed by Chris Blackwell. A music addict with wide-ranging tastes, Jumbo passed me Wasis Diop's album, after failing to convince Blackwell to release it on Mango. Having never heard of Wasis before, I was entranced, especially by the title track, No Sant, a duet with Lena Fiagbe that I played several times. The only other British DJ playing world music on the radio then was Radio One's Andy Kershaw. A big difference between us was that if he championed a record, he could generate significant sales, whereas my London audience was not large enough for its choices to be measured in chart positions. Having liked what he heard when I played 'No Sant', Andy obtained his own copy but then favoured a different song. 'African Dream' was released as a single in the UK and even made the pop charts. By the time I eventually met the charming Wasis himself, there was nothing I could do to correct his mistaken impression that I was the sole agent of his UK success.
Soon after I started the Saturday Night slot, I put out an appeal to any listeners who might like to volunteer to help out in the radio studio on an occasional basis, answering the phones or doing whatever else might be useful. Philip Ryalls, by day an IT consultant at British Airways, volunteered to come every week to fill in the forms that must be handed in to PRS after every show with details of songs writers, publishers, record labels and catalogue numbers. For the DJ, this is the least enjoyable aspect of his job; for Philip, it enabled him to sit in the studio, get to know the guests and feel part of the process. When we started this website, he volunteered to take snap shots of guests to be posted along with the playlists. As he improved his camera equipment and his eye, Philip became one of the premier music photographers in the land. Which he still remains, with a huge archive of photos at the Redferns Agency.
Radio Tarifa: Fain S. Dueñas, percussion, plucked strings and arrangements; Benjamin Escoriza, singer and lyric writer; and Vincent Molino, wind instruments.
OK, to get to the point. In 1995, Philip came back from a trip to Spain with an album on Spanish BMG by a new group called Radio Tarifa. He liked the record so much, he had bought second copy for me, and Rumba Argelina became one of my most-played records of that period. The album had a second life when World Circuit picked up the rights to release it outside the Spanish-speaking world, inviting me to provide its sleeve note. Eight years later, on 6 December 2003, Fain S. Dueñas, one of the group's three co-founders, came to play radio ping pong. The bulletin for that playlist, to be found in the Radio London archive (
http://www.charliegillett.com/playlist. ... December03
), summarises the extraordinary story of the album's genesis.
Pietra Montecorvino
A few months earlier (20th September) my guest was the Southern Italian singer and band-leader Eugenio Bennato, who was to perform the next evening at the Union Chapel, as part of a series of events promoted by fRoots Magazine. Impressed by Eugenio's charismatic flair, I was drawn into an album he had produced by his ex-wife Pietra Montecorvino, Napoli Mediterranea, in which they had rearranged ten famous Neopolitan songs with North African instrumentation. That album became a Saturday Night favourite over the following months, culminating in an invitation for Pietra to perform on Later with Jools. We all hoped that more might follow – appearances at other concerts perhaps, maybe a festival or two. But nothing, nada, not a thing.
Cesaria Evora
I first encountered the Cape Verdean singer Cesaria Evora on her 1989 album titled Diva with Bare Feet, but although that drew some attention to her, it was clearly a 'produced' album with synthesisers and drum machines providing a spuriously modern sound. Next time out, she was accompanied by mostly acoustic instruments, and seemed more at ease. This new sound reached its peak with Miss Perfumado – I could have chosen the anthemic 'Angola' which was played everywhere during the summer of 1992, but have gone with 'Sodade', a song previously associated with the Angolan singer Bonga. Now many others also include it in their repertoires, but Cesaria's version is 'the one'.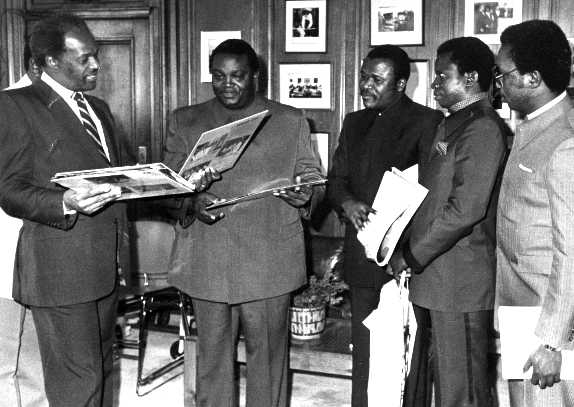 Washington DC's Mayor Marion Barry (left) welcomes Franco (second from left) to the city
Faced with a choice of which track by Franco to play as the best demonstration of what made him such a revered figure throughout Africa, no nomination will be seconded by every one. You could start at the beginning, with one of his template-setting songs recorded when he was still a teenage band-leader in the mid-1950s. Or come up to the 1980s, when excellent recording studios showed the power of his rhythm section and vocalists. But I've gone for 'Tailleur' from the late 1970s, purportedly about a tailor who can't thread his needle but widely recognised as being about an incompetent politician of the day.
Fela Kuti
Finally, Fela Kuti, the Nigerian architect of Afro-beat, whose influence seems to grow stronger year by year, long after his death in 1997 at the age of 59. I did a show on Capital Radio with him in 1984, which was among the most frustrating experiences I ever had. He was a man who didn't just like his weed, he couldn't function without it, and so conversation was inevitably a series of diversions, with no question answered directly, no idea followed to its conclusion. Somehow, he managed to make records, following an unusual principle of playing a song live for weeks or months until he was satisfied with its arrangement, when he would record it for posterity. But he would never want to play that one live again, preferring to go back to the beginning and do another new song instead. He did do one or two familiar tunes when I saw him play live a couple of times, but he was past his best and so I was never drawn to join his impressively large and influential fan club. Among those who are believers, 'Sorrow Tears and Blood' (1977) is widely revered as one of his best recordings.
CG
Listen again via http://www.bbc.co.uk/iplayer/console/p006frbb from 6 March 2010 11.30pm for 7 days
World Service page link
http://www.bbc.co.uk/programmes/p006frbb