World Service Week 8 from 20 February 2010 – World Music Hits 1 (repeat)
While I remain indisposed, the slot for A World of Music continues to re-run programmes from the past. This week's programme was first broadcast on 19 January 2008 see
viewtopic.php?f=42&t=6170
CG
posted on behalf of CG
Seq - Artist - Song Title - Album - Country - Label - Cat no - Website
1 - Amr Diab - Ya Nour El Ein - Rough Guide to Latin-Arabia - Egypt - World Music Network - RGNET1175CD -
http://tinyurl.com/yetx54g
2 - Gilberto Gil - Toda Menina Baiana - The Definitive - Brazil - Warner - 09274 1279 2 –
http://tinyurl.com/yr9ysh
3 - Taraf de Haïdouks - Balada Conducatorolui - Musique des Tziganes de Roumanie - Romania - Crammed World - CRAW 2 CD –
http://tinyurl.com/ptcwse
4 - Ofra Haza - Im Nin' Alu - Yemenite Songs - Israel - Globestyle - CDORB 006 –
http://tinyurl.com/y977y93
5 - Orchestra Super Mazembe - Shauri Yako - Giants of East Africa - Congo/Kenya - Earthworks - STEW45CD –
http://tinyurl.com/yg6tqk3
-------------------------------------------------------------------------------------------------------------------------------------------------------------------
This is Charlie's bulletin from the original show
http://www.charliegillett.com/playlistn ... 9January08
viewtopic.php?f=42&t=6170
The repertoire of what some of us call World Music is a mixture of songs that have been hits in countries outside 'The West' and others little known in their own countries but celebrated by at least a few of us beyond their borders.
Most weeks in this programme I play recent releases, but this year I plan to go back every couple of months, to pick out songs that feel like classics, the songs that drew each of us into the fold, made us realise that we could like music in languages other than our own, respond to singers who triggered unfamiliar sensations inside ourselves. The programme starts and ends with two songs that were huge hits in their own regions, while being acclaimed outside too.
The Egyptian Amr Diab has been one of the most popular singers throughout the Middle East since the early 1990s, and 'Ya Nour El Ein' (The Light of My Eye) is his biggest hit. It has a strong flamenco feel, as if partly inspired by the Gipsy Kings, and is still as effective at filling dance floors and brightening parties as when it was first released.
Amr Diab
Through most of the 1980s, I presented a world music show on London's first commercial radio station, Capital Radio, and often wished that the station would playlist some of the songs that were most popular with my listeners. But in 1987, I was caught by surprise when I heard a song in Portuguese being played in the daytime that I had never heard before. I still don't know how or why 'Toda Menina Baiana' by the Brazilian singer Gilberto Gil made the grade when so many other contenders didn't. Somehow, it had been played enough in London clubs to be featured on Capital's dance music show, and then it moved onto the playlist, with me being the last to catch up. A year later, a new head of music came to the station, who was astonished when he heard Peter Young playing a record in a foreign language during the day. He rushed into the studio to find out what was going on. "It was on Capital's playlist for weeks a year ago, it's a record that our listeners know very well", protested Peter. "I don't care what it is or what it was", said Richard Park, "it's never going to be played in the daytime here again." And it never was.
Gilberto Gil
In the 1970s and 1980s, Zairian musicians scattered across Africa in much the same way that Brazilian footballers are to be found throughout Europe now. Among the most popular mercenaries who carried soukous into East Africa was Orchestra Super Mazembe. They're mainly associated with Kenya, where they made most of their recordings, but first stopped off in Zambia for a few years, where they picked up a song written and made popular by another Zairian exile, Nguashi N'Timbo, 'Shauri Yako', which they turned into an anthem whose popularity has lasted for decades.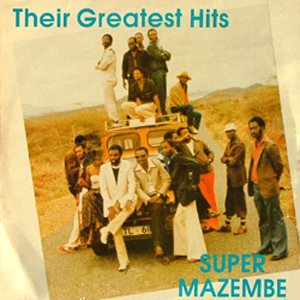 Orchestra Super Mazembe
That same year, 'Im Nin' Alu' by Ofra Haza was a surprise British hit, widely played on BBC Radio One, after its unaccompanied vocal intro had become familiar through being sampled in Coldcut's remix of the song 'Paid in Full' by the American hip hop duo, Eric B and Rakim. Ofra Haza was very well-known in Israel at the time, having been its Eurovision representative some years earlier, but her album Yemenite Songs was regarded as an aberration until it attracted attention in the rest of the world. Ofra Haza became a worldwide star, topping the pop chart in Germany and signing to Atlantic Records where she worked with renowned arranger-producer Arif Mardin. Contracting AIDS, she died while still in her early forties.
Ofra Haza
There have been so many albums and live tours from various Gypsy groups from the Balkans over the past fifteen years, it is difficult to rewind the clock and remember the surprise and exhilaration of listening to the first album by the Roman group Taraf de Haidouks in 1991. The tempo of some tracks was so fast, it seemed impossible that the musicians could stay in time with each other, but it was a slow one that drew me back time and again, 'Balada Conducatorolui'. For a while I couldn't make out what the strange sound was on the intro, but gradually understood that it must be some trick with a violin. And then there was that heartfelt vocal, which I learned was celebrating the downfall of President Ceauşescu. Still chilling, after all these years.
Taraf de Haidouks
CG
Listen again via http://www.bbc.co.uk/iplayer/console/p0067c3d from 20 February 2010 11.30pm for 7 days
World Service page link
http://www.bbc.co.uk/programmes/p0067c3d