Seq - Artist - Song Title - Album - Country - Label - Cat no
1 - Buika with Chucho Valdes - Vamonos - El Ultimo Trago - Spain - Warner -
2 - Yasmin Levy - Porque (with Eleni Vitaly) - Sentir - Israel/Greece - World Village - WV 450010
3 - Gino Bordin - Crepuscule Hawaiien - Virtuoso de la Guitare Hawaiienne - Italy - Grass Skirt - GSK 1003
4 - Blue Asia - Kun-nu-Shu - Sketches of Myahk - Japan - Vivid Sound - VSCD 9692
5 - Mahala Rai Band - Tu Romnie (with Dan Armeanca) - Ghetto Blasters - Romania - Asphalt Tango - CD-ATR 2509
6 - Faiz Ali Faiz & Titi Robin - Mast Qalandar - Khiraj Aqeedat - Jaadu Magic - Pakistan/France - Accord Croises - AC 130
-----------------------------------
Chucho Valdes and Buika
Q: When does a piano player become classified as a cocktail pianist?
A: When the listener dislikes him.
'Cocktail pianist' is just about the worst thing we can say, damning the musician as the sort of person content to tinkle away playing background music in a hotel lounge. There are some (well, only one person so far) who used the term to describe the Cuban pianist Chucho Valdes on this album, but the accusation is absurdly inaccurate and misses the point of a sensitive and sympathetic collaboration between vocalist and pianist to celebrate the repertoire of the Mexican singer Chavela Vargas. Before you correct me, I know Chavela was born in Cost Rica, but she made her reputation in Mexico and was based there for many years. Still alive at the age of 90, she 'came out' about ten years ago, finally admitting what many had suspected, that she had been a lesbian throughout her career, not something that could be admitted in a Catholic country at the time. Anyway, this album is a lovely evocation of her songs, almost always using sparse accompaniment, and produced once more by Javier Limón, the Spanish producer who has been associated with all Buika's albums so far (this is her fourth).
Eleni Vitaly and Yasmin Levy
Javier Limón was also the producer of Yasmin Levy's last album, which is where the 'cocktail pianist' accusation first surfaced. Certainly some songs are an uneasy combination of bland accompaniment and passionate singing, but the partnership seems to work fine on the vocal duet with Greek singer Eleni Vitaly.
Gino Bordin
The sound of a slide guitar evokes different connotations depending on the age and experience of the listener. For me, the first thought is of Nashville, where 'pedal steel' guitar was the vogue during the 1960s and '70s. It was a surprise to discover how popular this sound was in Nigeria, on the records of Ebenezer Obey, King Sunny Adé and Segun Adewale. Go back in time, and the association is with Hawaiian guitar, popular throughout the world in the 1930s and '40s and continuing to flourish in France, where the Italian musician Gino Bordin was still celebrated in the 1950s. Grass Skirt Records have just released a whole album by Bordin, which is consistently pleasing but perhaps best heard one track at a time. Crepuscule, as you probably already know, means dawn.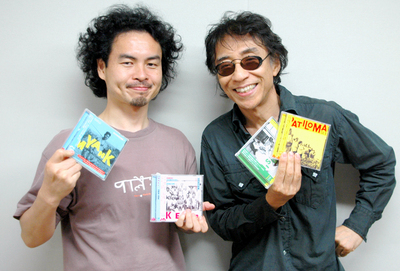 Blue Asia (Makoto Kubota, right)
Since releasing the path-breaking and continually impressive Hotel Bangkok in the middle of the decade, the Japanese production unit who call themselves Blue Asia made a trip to Morocco which was much less original and interesting. But now they have stayed much closer to home and made what just might be their best record yet, Sketches of Myahk, recorded on an island of Okinawa. The technique remains the same, to record traditional singers and musicians and place samples over pre-recorded backing tracks. Horrifying to purists, but delightful to those of us who simply let the record play without prejudging it on the basis of how it was made.
The Mahala Brass Band [photo:
www.flyglobalmusic.com
]
I am dangerously close to finding that many brass band records merge into a blur of noisy barrage, so do not put a new one on the top of my must-listen-to pile. Ghetto Blasters by The Mahala Brass Band confounds such prejudice, yielding songs with a distinct shape and melody, and with encouragement I'll be glad to come back to play another track.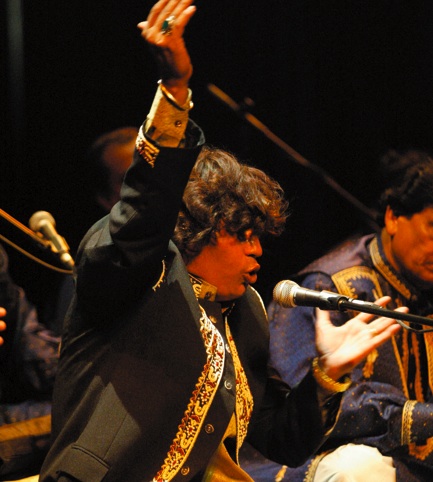 Faiz Ali Faiz
Titi Robin
Noting the collaboration between Faiz Ali Faiz, the qawaali vocalists from Pakistan, and Titi Robin, the guitarist from France, I was ready for it to go either way. You can never tell whether people will inspire each other or cancel each other out. Happily, this is a success for the French label Accord Croises, which specialises in fostering such encounters.