Seq - Artist - Song Title - Album - Country - Label - Cat no
1 - Lester Bowie - The Great Pretender - The Great Pretender - USA - ECM - 1209
2 - Momo Wandel Soumah - Toko - Afro Swing - Guinea Conakry - Fonti Musicali - FMD 217
3 - Les Triaboliques - Gulaguajira (I, The Dissolute Prisoner) - rivermudtwilight - UK - World Village - 468088
4 - 17 Hippies - Son Mystère - Heimlich - Germany - Hipster - HIP 012 LTD
5 - Ernesto Lecuona - Malaguena - Cuban Originals - Cuba - RCA - 74321 69937 2
--------------------------------------
Alert listeners to World on 3 on Dec 18 will have already heard the segue of Lester Bowie into Momo Wandel Soumah. Forgive me, I liked it so much, I used it twice.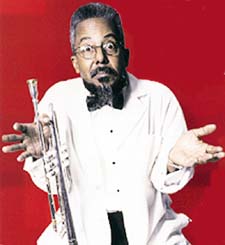 Lester Bowie
Trumpeter Lester Bowie was a member of the Chicago-based experimental jazz co-operative, AACM (The Association for the Advancement of Creative Musicians), and founder of the Art Ensemble of Chicago. I found much of his music inaccessible, but was introduced to this reworking of the well-known Platters' hit when it was played at the memorial of Charlie McKissack, a music fan who was for many years the coordinator of volunteers who answered the phone during my BBC Radio London programme, Honky Tonk. Our mutual friend Max Reinhardt had held discussions with Charlie about the music each of them would like to be played at his funeral, and Max chose this as the tune to be played while we all filed out of the hall. Hearing Lester's unearthly voice seeming to speak to us from the heavens was very disturbing, and the song remained a family favourite for some years afterwards.
Momo Wandel Soumah
[photo courtesy
www.Marimbalafon.com
]
Momo Wandel Soumah was a saxophone player from Guinea Conakry. Having once been a member of Keletigui et ses Tambourinis (played in this programme quite recently), Momo became leader of his own group and recorded a couple of outstanding albums of which Afro Swing remains the best. Many thanks to Katerina Lobeck who several years ago brought back from her trip to Guinea a various artists compilation which included 'Toko', leading me to contact the Belgian record label that had first released Afro Swing. Having been an admirer of Ornette Coleman and John Coltrane, Momo would have appreciated being linked to Lester Bowie.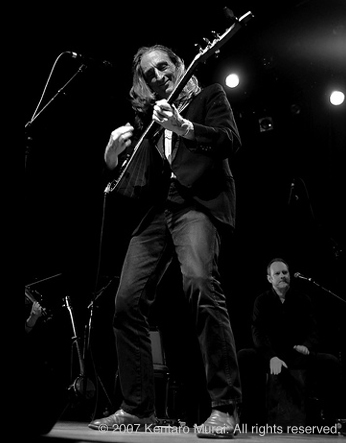 Lu Edmonds of Les Triaboliques
Although Howard Male reports hearing more than one good track on the album by Les Triaboliques, I cannot find anything to match the one I played before, so here it is again.
17 Hippies
I have played 'Son Mystère' by the 17 Hippies several times before, and remain frustrated that it has not surfaced into the big wide world. Surely the people who like Jacques Brel would appreciate the craft of the song.
Ernesto Lecuona
For the recent programme of recordings made in 1928, I was set to play a tune by the Cuban pianist and composer Ernesto Lecuona. Alert producer Radek Boschetty noted that although the tune I planned to play was indeed written that year, the recording was actually made as recently as 1956, so I hastily inserted a substitute that really was made in 1928. But I still wanted to play the man himself, so here he is, composer of many long-time standards including 'Siboney' was well as this one, 'Malaguena'.