Seq - Artist - Song Title - Album - Country - Label - Cat no
1 - The Very Best - Warm Heart of Africa featuring Ezra Koenig - Warm Heart Of Africa - Malawi/UK - Moshi Moshi Records - Promo
2 - Les Triaboliques - Gulaguajira (I, The Dissolute Prisoner) - rivermudtwilight - UK - World Village - 468088
3 - Juana Molina - Un Dia - Un Dia - Argentina - Domino - WIGCD227
4 - Sam Baker - Cotton - Cotto - USA - Music Road - MRRCD104
5 - Bassekou Kouyate & Ngoni Ba - Torin Torin ft Harouna Samake - I Speak Fula - Mali - Out Here - OH 013
6 - 17 Hippies - Adieu - El Dorado - Germany - Hipster - HIP 013
------------------------
If there is a category called Most Intriguing Album of the Year, Warm Heart of Africa wins hands down. I listened several times without coming to grips with it, uncertain of its genre or regional origins and at first not even sure whether I liked it. But after finally letting it run to the end without having to define it, I surrender and like it a lot.
The Very Best (but who is who?)
It seems that when East London resident Malawian Esau Mwamwaya advertised his bike in a local newsagent, a response came from a member of the Radioclit production team. Realising that fate had decreed they should work together, tracks were recorded and sent out to tastemakers on what is confusingly referred to as a mixtape. Not being considered a relevant recipient of that mixtape (in reality, a CD-R compilation), the first I knew of the project was an enigmatically titled pre-release CD immodestly titled The Very Best.
Part of the confusion comes from the sense of a vocal group, but most of the voices are Esau's, double- and triple-tracked. And the lack of a regional genre is explained by the fact that the music is made by a Swedish-French production partnership. But what matters is the infectiousness of the music itself, which will easily fit alongside just about any music a DJ chooses to pair it with, whether pop, hard core dance or world. And it does not hurt to have a couple of high profile names as featured vocalist, MIA on one track and Ezra Koenig from Vampire Weekend on this one. He sings well, that Ezra boy, although I don't understand what he is singing about. The PLO?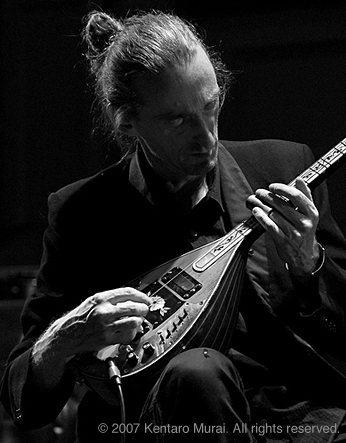 Lu Edmonds of Les Triaboliques
Les Triaboloques are also inscrutable in 'Gulaguajira' on which Lu Edmonds sings a Russian prisoner's lament, in Russian. I had been looking forward to this album, but am disappointed that their version of 'Don't Let Me be Misunderstood' is so restrained, not nearly as intense as the version they performed during their session on World on 3 earlier this year. Pity they did not apply to use that version instead. There's probably some explanation that mistakes were made, but only musicians notice or care about mistakes. The rest of us simply react (or don't react, as the case may be).
Juana Molina
[photo courtesy The Australian Daily Telegraph]
I have only just tracked down the most recent release from Argentinean singer, Juana Molina, and so am late in reporting that it may be her best yet, maintaining her singular approach of multi-tracked voices and circular instrumental loops.
Sam Baker
Sam Baker is a new name to me, an American who experienced a devastating accident in Peru some years ago, from which he has only recently recovered sufficiently to be able to make records. Cotton is the third album in a trilogy, whose title track is particularly compelling. More at
www.myspace.com/sambakermusic
The programme ends with my two favourite live artists of the year.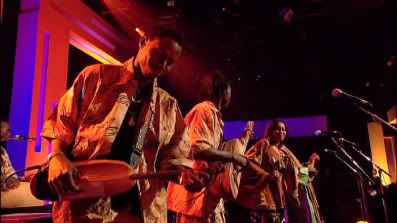 Bassekou Kouyate & Ngoni Ba
Bassekou Kouyate & Ngoni Ba are so good live, it seemed impossible that their second album could do justice to the power and variety of their music. I'm still not sure whether it does, all the way though, but track 4, Torin Torin, showcases everything that is great about the band, with an additional attraction in the kamel ngoni of Harouna Samake.
17 Hippies
17 Hippies made me a happy man by playing five songs as the finale to my two-hour stint on the Radio 3 stage at WOMAD, Charlton Park, in July. We finish with a song from their last album, El Dorado.