Seq - Artist - Song Title - Album - Country - Label - Cat no
1 - Victor Démé - Burkina Mousso - Victor Démé - Burkina Faso - Chapa Blues - CPCD01
2 - Cimmarón - Pajarillo - Quiapesares - Colombia - Astar - promo
3 - Mec Yek - Parni Luludji - Antikrisis - Belgium/Slovakia - Choux de Bruxelles - Choux 0802
4 - Alemayehu Eshètè - Betchayén Tègodahu - Ethiopiques 8: Swinging Addis - Ethiopia - Buda - 82982-2
5 - Orishas - Mistica - a lo Cubano - Cuba - EMI France - 7243 522052 2
6 - Ba Cissoko - Séno - Séno - Guinea Conakry - Sterns - STCD1108
-------------------------------
Having picked out a selection of artists appearing at WOMAD Charlton Park ahead of the event, here is a round-up of those who made the greatest impression on the two days I attended, most of them previously unknown and unheard.
Victor Démé
The debut album by Victor Démé from Burkina Faso has been one of the best-selling world music CDs in France for the past several months, but I found it a bit too easy-on-the-ear, sounding sometimes as if he had recruited a session band from Cape Verde to please the coffee-table listeners. At WOMAD, it became clear that Victor is a bona fide griot, one of those singers who learns a repertoire of songs dating back through the ages while also commentating on current events in original compositions that allude to the activities of local politicians and dignitaries. In several performances on the last day of the Festival, Victor emerged as a major discover.
Cimmarón
Cimmarón is a group from the plains of Colombia whose performance created a big buzz among the world music professionals at the WOMEX trade fair in Seville last October. Having missed that event, I caught the group on the South Bank in July the weekend before WOMAD and was knocked out by the combination of instrumental virtuosity (particularly on harp and cuatro) and all round entertainment from singers who looked as if they had just stepped off their horses. They reminded me of Taraf de Haidouks in their early days. Everybody was still talking about their Friday performance at WOMAD when I arrived a day late(r).
Mec Yec
One of the best aspects of WOMAD is the way music reaches out to tease the listener into trying to guess who it is and what genre is it. I had gone through several wrong guesses – Klezmer, or Balkan? – as I approached the Radio 3 stage and discovered Mec Yec, the group formed by members of the Belgian group Jaune Toujours and featuring two Slovakian sisters.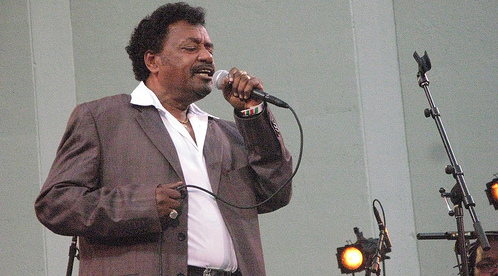 Alemayehu Eshètè
Far from being a discovery at WOMAD, Alemayehu Eshètè is probably my favourite of all the singers and musicians introduced by the series Ethiopiques and repackaged in Very Best of Ethiopiques. It was a thrill to have him onstage as part of my two hour slot on Sunday evening.
Orishas
I had not intended to listen to Orishas, the Cuban trio who made their debut about ten years ago, but they sounded so good in the Siam Tent, I stood listening for a long time.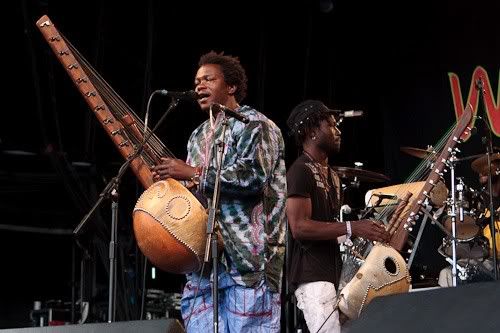 Ba Cissoko
[photo: Andy Pitt]
Ba Cissoko was another group I heard from afar as I approached the Radio 3 Stage, trying to work out if this was a rock group with a kora player, or an African group with a rock-like sound. Ba Cissoko was the answer, and the vocals of this group from Guinea are much improved, both live and on their third album, Seno.