Seq - Artist - Song Title - Album - Country - Label - Cat no
1 - Jimmie Rodgers - In the Jailhouse Now - The Very Best of Jimmie Rodgers - USA - BMG Camden - 74321 535852
2 - Louis Armstrong - West End Blues - Complete Hot 5 & Hot 7 - USA - Columbia/Legacy - C4K 63527
3 - Duke Ellington - Black Beauty - Ken Burns Jazz - USA - Columbia/Legacy - CSK 61432
4 - Wilmoth Houdini - Black But Sweet - Poor But Ambitious - Trinidad - Arhoolie - Cd 7010
5 - Sexteto Nacional - Siboney - Music of Cuba: 1909 - 1951 - Cuba - Columbia/Legacy - 498709 2
6 - Grupo De la Alegria - El Tambor de la Alegria - Hot Woman - Cuba - Kein & Aber - EFA 23284
7 - Lonnie Johnson - Careless Love - The Original Guitar Wizard - USA - Proper - PROPERBOX 81
8 - Cow Cow Davenport - Cow Cow Blues - Roll 'Em Pete - USA - Indigo - IGOTCD 2551
-----------------------------------------------
For a while, I've noticed that records made in 1928 seemed to represent a pinnacle from the early years of recording, and this week's show strings eight of them in a row. Digging around in the books on my shelf, I looked to see if there was an obvious explanation, expecting to find that there had been a major breakthrough that year in the technology of electronic microphones. But I could find no such evidence.
Jimmie Rodgers
Country music pioneer Jimmie Rodgers started recording in 1927 and was very prolific until his death from TB in 1933, but 'In The Jailhouse Now' was one of his greatest moments.
Louis Armstrong
Louis Armstrong had such a long and varied career, his early records were more or less unknown to the people who knew him for 'What a Wonderful World' or 'Hello Dolly'. But they were travesties for anybody familiar with the great records he made with his small groups in the 1920s, among which 'West End Blues' is widely acknowledged as his masterpiece.
Duke Ellington
Duke Ellington's reputation is based on his work as a band-leader, but 'Black Beauty' confirms that he was a sensitive pianist too.
Wilmoth Houdini
The Trinidadian Wilmoth Houdini was one of the pioneers of calypso music, many of whose songs stuck to the theme of celebrating the incomparable charms of black women with which he began his career.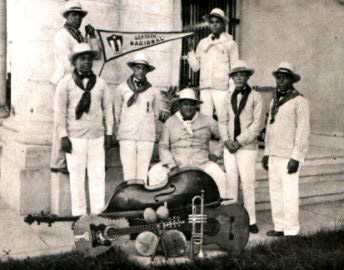 Sexteto Nacional
I was hoping to include a recording by the Cuban composer Ernesto Lecuona, but was unable to find one that was definitely mad in 1928; instead, I played a popular version of one of his most famous songs, 'Siboney' by Sexteto Nacional.
No information is available for a group from this era called Grupo de la Alegria (Group of Joy), whose track 'El Tambor de la Alergia' is included on the Robert Crumb compilation, Hot Women. Thanks to listener Rob Hall for reminding me of this one.
Lonnie Johnson
In the 1950s and '60s, when white blues fans 'discovered' long-forgotten country blues guitarists from the 1920s and '30s, they tended to concentrate on people whose records were hard to find, and often overlooked a man who had sold many thousands of records throughout his career. But precisely because he was so successful in his own time, Lonnie Johnson was the inspiration and model for his contemporaries, notably Robert Johnson, now more widely revered. The song performed here by Lonnie Johnson was not new in 1928 – 'Careless Love' was probably a traditional song and had been copyrighted by W.C.Handy in 1926, but it was Lonnie's version that helped to put it in the repertoire of twentieth century standards.
Cow Cow Davenport
'Cow Cow Blues' by Cow Cow Davenport has so many elements of what was later known as 'boogie woogie' that it is sometimes cited as the first recording of that style. I don't know enough about the technicalities for or against, but it does add evidence to the argument for1928 to be regarded as a watershed year..