2009 - week 30, from 25 July, world hits vol 10
Posted:
Fri Jul 24, 2009 11:22 am
Seq - Artist - Song Title - Album - Country - Label - Cat no
1 - Desmond Dekker - Israelites - You Can Get It if… - Jamaica - Trojan - TJDDD239
2 - Juan Luis Guerra - Ojalá Que Llueva Café - Grandes Exitos - Dominican Republic - Karen -
3 - Miriam Makeba - Malaika (My Angel) - The Essential Miriam Makeba - South Africa - Manteca - MANTDBL502
4 - Los Indios Tabajaras - Maria Elena - 7" 45 - Brazil - RCA - 1365
5 - David Rudder - Bahia Girl (Eddy Grant Remix) - 7" 45 - Trinidad - London - Lon 98
6 - Kassav' - Zouk-la-se sel Medikaman Nou Ni - 7" 45 - French Antilles - Greensleeves - GRE 701
7 - Souzy Kasseya - Le Telephone Sonne - 12" 45 - Zaire/France - Earthworks - ET 03
----------------------------------------------
Desmond Dekker
Long before Bob Marley and the Wailers introduced the world to reggae, Desmond Dekker and the Aces had a world wide hit with 'The Israelites', sung in an accent so strong some people did not realise it was in English. And if you did realise, what was he saying? 'Get up in the morning, same thing for breakfast'? No, it was 'Get up in the morning, slaving for bread, sir – so that every mouth can be fed.' A sensational record back then, and just as good now.
Juan Luis Guerra
In the early 1990s, one of the most popular artists throughout Latin America was the Dominican merengue singer Juan Luis Guerra, who even had a top ten hit in several European countries (Italy, Belgium, Spain) with 'Ojalá Que Llueva Café'. Although Guerra and his band 440 toured Europe back then he never came to the UK where promoters could not afford his huge fees. I never managed to license any of his tracks for my annual compilation series, but this song brings back memories of the many times I played it on the radio.
Miriam Makeba
When people try to summarise the impact of the late Miriam Makeba with just one song, they often go back to the traditional South African tune that became known elsewhere as 'The Klick Song' because of the unusual sounds she made when singing in Xhosa. Alternatively, there was the dance floor classic, 'Pata Pata'. But the nearest she came to having a universal anthem was with the Kenyan song, 'Malaika', recorded for RCA in 1964 when she was still a protégé of Harry Belafonte. It is Belafonte's warm baritone that opens up the recording, until Miriam takes over to deliver the haunting melody.
Los Indios Tabajaras
Around the same time, RCA had an international hit with an instrumental recorded by two brothers from Brazil, Antenor and Natalicio Lima, known as Los Indios Tabajaras. The tune, 'Maria Elena', had been written many years before by the Mexican composer Lorenzo Barcelata, and was already a well-established Latin American standard before this version was a top five hit in the US, the UK and most of Europe. Surely, Peter Green must have had it at the back of his mind when he wrote and recorded 'Albatross' with Fleetwood Mac in 1968. Ry Cooder recorded 'Maria Elena' on his album Boomer's Story in 1972.
David Rudder
David Rudder is a Trinidadian singer, composer and bandleader who kept the spirit of calypso afloat when the more commercialised soca genre almost wiped the traditional form off the map during the 1980s. A very eloquent guest on my Capitol radio show at the time, Rudder has persevered and had many more hits over the years but I'm including the song which achieved extensive airplay in the UK in 1990, 'Bahia Girl'.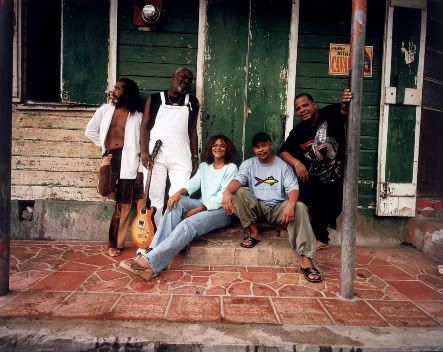 Kassav',
During the mid-1980s, one of the biggest bands in the newly emerging world music scene was Kassav', formed in Paris by musicians from the French Antilles. For a while, their record label released a bewildering number of albums under different artist names until the strategy became clear. All the musicians were members of Kassav' and by having their own albums, they could be marketed as an instant supergroup. One of my proudest moments was to persuade Capital Radio to host an event on Clapham Common headlined by Kassav'. The Capital executive in charge of live events had never heard of them, but trusted my assurance that a crowd would turn up, and so it did. Long established a a favourite in Paris dance clubs, 'Zouk-la-se sel Medikaman Nou Ni' ('Zouk is the medicine we need') was the hit of the afternoon.
Souzy Kasseya
One of the main catalysts in the world music movement in the UK in the early 1980s was the South African music fan, Jumbo Vanrenen, who in 1982 left his job in the A&R department at Virgin to launch his own distribution company, Earthworks, which soon blossomed into a label. One of his earliest releases was 'Le Telephone Sonne' by Souzy Kasseya, a lovely pop song with shimmering guitar from the Zairian musician.
.