Seq - Artist - Song Title - Album - Country - Label - Cat no
1 - DVA - Nunovó Tango - Fonok - Czech Republic - Indies - MAM435-2
2 - Nada Mamula - Omer Beže - Antologija Bosanskog Sevdaha - Croatia - Croatia - CD 5819875
3 - Tinariwen - Tenhert - Imidiwan - Mali - Independiente - ISOM 78 CD
4 - Bob Marley - Small Axe - African Herbsman - Jamaica - Trojan - CDTRL 62
5 - Najma & Gary Lucas - Naya Dhin - Rishte - Indian/USA - World Village - 450008
6 - Calle 13 - La Perla, feat Ruben Blades - Los De Atras Vienen Conmigo - Puerto Rico/ Panama - Sony BMG - 8869 736801 2
----------------------------
It seems we are in week 28, although I listed last week as 26.
DVA
As reported elsewhere on the forum, the album by the Czech group DVA has been my first choice entertainment on recent car journeys, despite being quite far from what I usually like. So far as I can tell, the group, whose name means pair, comprises a man and a woman, who may occasionally enrol others to help them make music that has some connections to jazz but is mostly their own concoction, defying generic classification. On their website
http://www.myspace.com/hudba2
they list their own involvement and identity as follows: S H E / saxophone / clarinet / vocal / toys
H E / guitar / vocal / beatbox / loops
Nada Mamula
The prospect of listening to an anthology of Bosnian music on a Croatian label would not be certain make my heart beat faster, but I was rewarded with an agreeable surprise at track 2, by the previously unknown Nada Mamula.
Tinariwen
Tinariwen's third album sounded like it was produced with the intention of pleasing those who heard echoes of hard rock in the band's bluesy sound, but the fourth has gone back to a more acoustic feel and 'Tenhert' at track 3 has be hitting the replay button time and again. Having since ventured through the whole album, this still sounds like the place to start, stop and return to.
The Wailers
Despite having been an avid reggae fan before the emergence of Bob Marley and the Wailers on Island, I had not known about the many Wailers track released over the previous decade, and did not immediately realise how many of his Island recordings were new versions of earlier favourites. In the years since, the earlier period has been mined and repackaged time and again, often focussing on the tracks that enjoyed a second life. African Herbsman is one of the better such releases, and includes this touching original version of 'Small Axe'.
Compared to the intense pressure experienced by pop music radio producers and presenters from promotion departments, their world music equivalents are mostly treated gently and respectfully. A softly softy approach is more likely to be effective, and both of the last two choices in this programme are included after subtle interventions from people involved.
Najma, Gary Lucas
On first listen, the combination of Indian vocalist Najma and New York guitarist Gary Lucas did not feel comfortable, but World Village PR man Mike Gavin gently suggested I persevere and he's right, the pair do hit it off more often than not.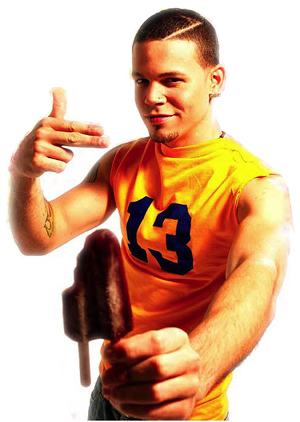 Calle 13
Calle 13 is a Puerto Rican band about to play in London, having been brought to the UK by live music promoter Andy Wood and his Como No organisation. One or two songs have unbroadcastable lyrics and others feature a tough rap delivery that would fit uneasily alongside my usual fare. The sophisticated arrangement of 'La Perla' feels more compatible, featuring a vocal contribution from Ruben Blades. The band plays the Forum in Kentish Town, north London, on 8th August.