Seq - Artist - Song Title - Album - Country - Label - Cat no
1 - Lura - Tabanka - Eclipse - Cape verde - Lusafrica - 5675 562222
2 - Ojos de Brujo - Rumba Del Adios - Aocaná - Spain - Warner - 2564691346
3 - Quintana-Escalante - Tahachi Remimbyasy - Duo de la Simpatía - Paraguay - Cerro Cor - ECC 5008
4 - Goran Bregovic - Hop Hop Hop - Best of Goran Bregovic - Bosnia/Serbia - Wrasse - WRAss 241
5 - Aynur - Ehmedo - Crossing The Bridge - T urkey - Corazon - 5050467 8740 2
6 - Up Bustle & out - Yol Türküsü (feat Sevval Sam) - Istanbul 's Secrets - Turkey - Collision - CCT 3017-2
7 - Moondog - Oo Solo - More Moondog - USA - Honest Jons - HJRCD106
------------------------------------------
Four of the singers in this week's programme have been engaging guests on recent radio shows, but I hope I have maintained proper objectivity in selecting these tracks for the entertainment of those who have never known them.
Lura [photo courtesy
www.kalamu.com
]
Lura is yet another young singer who has pursued the musical roots of her Cape Verdean parents, and on her latest album has finally found a way to present herself that does not seem to have any 'commercial' motives behind the arrangements and production. Having begun her entertainment career as a dancer, Lura is surprised to have been launched as a singer by the people who discovered Cesaria Evora, who have chosen Lura to be the one to carry the Cape Verde musical baton forward.
Ojos de Brujo
Having been an ardent supporter of the album Bari by the Barcelona group Ojos de Brujo, I was so disappointed by the follow-up, I left it on the shelf, unplayed. But this new one, Aocaná, shows them back on form.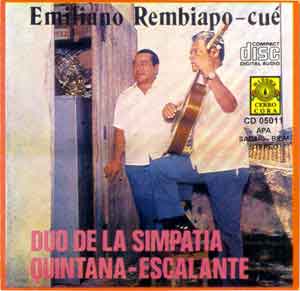 Quintana-Escalante
Among the regular listeners to this programme is Carlos Bittar in Ascuncion, Paraguay, who listens while he develops his photographs. Carlos recently sent a package that included not only a book of his photographs, but CD reissue compilations including Duo de la Simpatía by Quintana-Escalante, whose classic combination of guitar and harp is reminiscent of Trio Los Paraguayos, recently played in Vol 9 of 'world hits'.
Goran Bregovic [ courtesy
www.nigeldickinson.com
]
Having just released a new album, Goran Bregovic is simultaneously wallowing in his past with a marvellous collection of songs that are mostly, but not all, from the many film soundtracks he has contributed to. Despite its apparently randomly connected sources, the album Welcome to Bregovic works remarkably well as a seamless introduction to his brilliant interpretations of the classic repertoire of Balkan music, while also introducing a few less known gems such as 'Hop Hop Hop'. Worried about what insults might be hidden in the lyric, the World Service crime detective squad has reassured itself that there is nothing unacceptable in the mixture of Roma slang and Serbo-Croat salutations.
Aynur
The next two are both throw-backs to my recent visit to Istanbul where I fell under the spell of both Aynur and Şevval Sam. The Kurdish singer Aynur sang two songs specially for us, one of which was 'Ahmedo' (also known as 'Ehmedo'). Her most easily accessible version of the song is on her own album Keçe Kurdan, but I prefer the unadorned version she performed for the film Crossing the Bridge.
Şevval Sam
Şevval Sam has an unusual double-career as both actress and singer, and in addition to the albums she has recorded under her own name, Şevval is the main vocalist featured on the album Istanbul Secrets by Up Bustle & Out, a typically quirky combination of Turkish, Spanish and dancehall ingredients cooked up by the Bristol-based musical chef, Rupert Mould.
Moondog
Speaking of quirky, meet Moondog, the street musician who busked on the streets of New York during the 1960s when his eccentric music was recorded for several companies including the major label Columbia. His albums are collectors' items, but many tracks are now available on albums compiled by the British label, Honest Jon's.
http://www.bbc.co.uk/programmes/p002vsns