Half the World
http://www.myspace.com/halftheworldconcerts
presents, at the
Pizza on the Park
, 11-13 Knightsbridge, London SW1
Tuesday May 29th:
Debashish & Subhasis Bhattacharya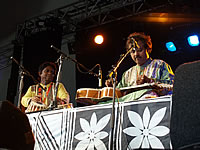 Kolkata's Pandit Debashish Bhattacharya is a master of breathtaking speed, dexterity and creativity on the sympathetic-stringed, hollow-necked slide guitars of his own invention. Accompanied, as in this Half the World show, by the brilliant tabla playing of his brother Subhasis, he drew excited crowds at Womad last year, and is the winner of the Asia/Pacific category in this year's BBC Radio 3 Awards for World Music.
The Bhattacharyas will be performing a short set at the Radio 3 World Music Award Winners' concert at the Barbican on May 27th, but this Half the World performance will be their only full-length London show on this trip.
[i]"He uses a unique three-finger picking technique that gives him lightning speed and creates hypnotic flurries of notes that it would take a battery of special effects to produce from a western guitar. The results are as beautiful as they are extraordinary.â€