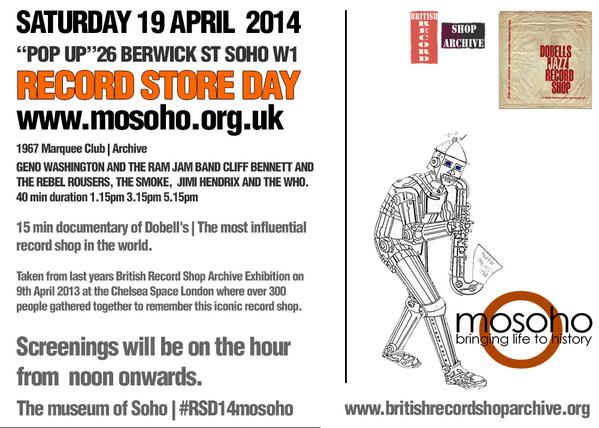 British Record Shop Archive Record Store Day Events
During 2014 the British record shop archive will be popping up at various venues. Each event will cast a unique spotlight on record shops that have existed. Each venue is the perfect spot to collect achivable items related to record shops that existed in that area. Dig out your record shop related stuff celebrate the record shop heritage and share your memories with the BRSA curators.
Berwick Street Record Store Day
Sharing a stall with the Museum Of Soho 19th April 2014 8:00am till 7:00pm. We'll be projecting 1967 LIVE FROM THE MARQUEE CLUB Video, GENO WASHINGTON AND THE RAM JAM BAND CLIFF BENNETT AND THE REBEL ROUSERS, THE SMOKE, JIMI HENDRIX AND THE WHO . 'Every True Jazz Fan Is Found Within The Sound Of Dobells' film British Record Shop Archive.
26 Berwick St, Ln, W1F 0PH Lecister Square Tube Station
Celebrate Record Store Day Upstairs@ the Ritzy.
Presents the film
'Every True Jazz Fan Is Found Within The Sound Of Dobells'
20th April -3:00pm-6:00 pm (Film 4pm ) DJ BRSA curator Leon Parker spinns tunes you would found at Dobells
This short film documents the first ever Record Shop exhibition of 2012 that celebrated legendary Soho jazz shop Dobells. Film includes interviews with former staff and customers who reflect on what Dobells meant to them. Here is a celebration of a bygone age when record shops were music clubs of sorts.
Coldharbour Ln, London, SW2 1JG Brixton Tube Station
Pop Up Archive/Film
26th April 2014 (Times to be anoucned) DJ Curator leon Parker and film 'Every True Jazz Fan Is Found Within The Sound Of Dobells'
HAYDEN WYLDS - COFFEE + RECORDS - 118 LOWER CLAPTON ROAD, LONDON E5 Coffee/Records/Vintage 020 8986 7372- 118 Lower Clapton Road, Ln,-E5 OQR Homerton Train Station
At each event will be selling limited T-shirts to support the work of the BRSA.